Dir: Hideo Nakata. UK 2010. 97mins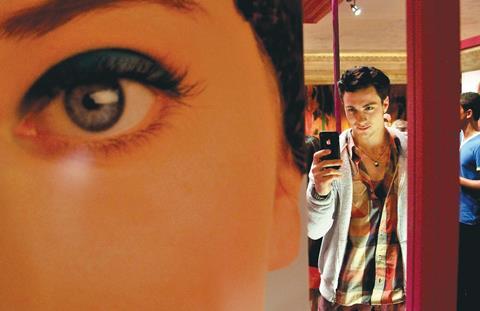 Japanese horror specialist Hideo Nakata (the Ring films) makes an intriguing change of direction and locale in Chatroom, a stylised dissection of the temptations and pitfalls of life online. Adapted from his play by Enda Walsh - Disco Pigs, Steve McQueen's Hunger - Chatroom follows a group of troubled London teenagers both in the real world and in a virtual jungle of online chatrooms, where no-one is quite what they seem.
This stylish piece could yield respectable sales and move outside the art-house bracket given modish youth appeal.
A bold take on ostensibly over-familiar cyber-themes, Chatroom finds an inventive visual correlative for its psychological and sociological investigations, only to go off the rails in a rushed and bathetic climax.
Nevertheless, this stylish piece could yield respectable sales and move outside the art-house bracket given modish youth appeal, Nakata's international genre reputation and the rising cachet of charismatic lead Aaron Johnson, from Kick-Ass.

Johnson plays William, a damaged teenager - although he looks markedly mature for the part - who has a troubled relationship with his family and is morbidly invested in his secret life online. William opens a chatroom, into which four other youngsters wander in search, ostensibly, of friendship. Jim (Beard) is a shy loner traumatised by his father's abandonment; Mo (Kaluuya) is a 17-year-old boy with a secret, in love with his best friend's pre-pubescent sister; posh Emily (Murray) is a gauche high achiever who can't wait for an opportunity to sample rebellion, and Eva (Poots) is an aspiring model whose looks and modishness can't hide her insecurities.
In the chatroom, William can both assume a dominant new identity and prey on his trusting friends, playing on their weaknesses: he persuades Emily to dabble in anti-social activities, Mo to confess all and Jim to stop his medication, with drastic results.
Online stories are notoriously difficult to carry off on-screen, but Chatroom tries something different. Here, chatrooms are depicted as actual spaces off an eerie corridor crowded by assorted freaks. William's room starts off sparse, chairs arranged as for a therapy session, before it's tarted up by Emily and Eva - while the latter has her own chatroom, resembling an exclusive young hipsters' club. Other rooms are more disturbing, like one devoted to merciless online bullying. Nakata, DoP Benoît Delhomme and designer Jon Henson artfully persuade us of the reality of this seductively lurid dreamworld, while highlighting its theatrical artifice.
The evocation of a seemingly more-real-than-real virtual realm echoes David Cronenberg's more overtly surreal eXistenZ, but it's a smart move of Nakata to keep his chatroom a more mundane, and indeed somewhat theatrical, space.
Walsh's script - with dialogue given the deliberately flat feel of lines on a screen - intelligently delves into teenage anxiety and online issues such as bullying, identity problems and cyber-addiction, although at times the film veers perilously close to an alarmist 'save our kids' statement.
The ensemble acting is good, Beard especially registering as the fragile Jim, although at times Johnson's chatroom persona is a little too broadly satanic. But the film goes seriously off the rails in the last ten minutes, when an absurd race-against-time pursuit through London's Camden Town effectively blows the dramatic credit of what comes before.
Production companies: Ruby Films, Film4, UK Film Council, West End Films
French distribution: Diaphana
International sales: WestEnd Films, +44 207 494 8300
Screenplay: Enda Walsh
Producers: Laura Hastings-Smith, Alison Owen, Paul Trijbits
Cinematography: Benoît Delhomme
Editor: Masahiro Hirakubo
Production designer: Jon Henson
Music: Kenji Kawaii
Main cast: Aaron Johnson, Imogen Poots, Matthew Beard, Hannah Murray, Daniel Kaluuya