Song Chuan explores the generational and regional divides of Chinese culture in his sophomore film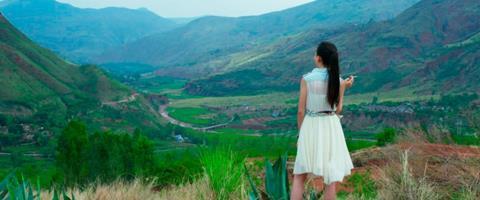 Dir/scr. Song Chuan. France / People's Republic of China, 2017, 83 mins
Thanks to a poetic yet probing approach, Ciao Ciao's contemplative take on the homecoming narrative strikes both an emotional and visual chord. Writer/director Song Chuan brings a painterly eye to the plight of his titular protagonist - a city-dwelling daughter reluctantly visiting her rural parents - while convincingly exploring cultural divisions of both gender and location.
An immersive excursion through an ordinary but revelatory world
It's a familiar story, predicated on the discontent that can spring from a child's return to the familial fold, but the film's distinctive look and feel sets it apart. Watching Ciao Ciao (Liang Xueqin) attempt to readjust to country life in Yunnan province — albeit temporarily, smartphone forever in hand — is like stepping into a lucid but patient dream of malaise and ennui. Indeed, thanks to Chuan and cinematographer Li Xuejun's success in conveying this sensation in patient scenes and carefully composed sights, the feature is a strong contender for further festival play beyond its Berlin Panorama berth.
Chuan and Xuejun largely favour two methods of communicating Ciao Ciao's many clashes, as well as the toll they take on its characters. As its central figure wanders around the village, the camera first prefers to observe from afar. While she remains barely cognisant of the pleas from her parents (Zhou Lin and Wang Laowu) about her future, and much more preoccupied with juggling new physical and emotional bonds with a hairdresser (Zhou Quan) and the loutish son of a corn whiskey distiller (Zhang Yu), the feature luxuriates in eye-catching images of Ciao Ciao dwarfed by her natural, scenic surroundings.
Then, as time passes and the drama swells, the film studies the faces involved, with most unable to hide their unhappiness and uncertainty — even though almost every character has their own way with dealing with it; sex, alcohol and adultery among them. As Ciao Ciao pouts, texts, and pines for the city, and flits between the two men paying her attention, the movie draws the audience into the spectacle with her.
In his first professionally produced effort, and second overall after 2011's Huan Huan, Chuan finds a delicate balance between keeping viewers at a distance and drawing them in. As he ventures every closer to his central character, including in several plainly shot, intimate encounters, the audience becomes privy to the thought processes of both Ciao Ciao and those around her.
Aided by insular performances that indicate the requisite internalised struggles, the end result is an immersive excursion through an ordinary but revelatory world; never packaged as extraordinary, but always proving involving. The finessed, rhythmic work by editor Jean-Marie Lengellé (Blue Is the Warmest Color) also assists, as do the bursts of liveliness afforded by composer Jean-Christophe Onno.
Production Company: Zorba Production, g.delaboulaye@zorbaproduction.com
Producer: Guillaume de la Boulaye
Co-producers: He Xiaoyun, Thomas He
Cinematographer: Li Xuejun
Editor: Jean-Marie Lengellé
Music: Jean-Christophe Onno
Production designer: Wang Laowu
Costume designer: Zhang Xiaojuan
Cast: Liang Xueqin, Zhang Yu, Hong Chang, Zhou Lin, Wang Laowu, Zhou Quan