Korean director Hong Sangsoo turns in a characteristically enigmatic drama set during the Cannes film festival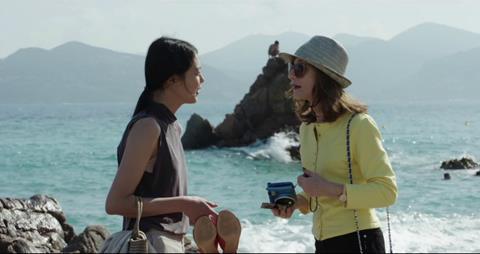 Dir/scr: Hong Sangsoo. South Korea. 2017. 69mins.
With three films on the festival circuit thus far this year, including two in Cannes, Hong Sangsoo is certainly one of Korea's most prolific directors. Quantity, however, is not necessarily a mark of quality, even for a filmmaker like Hong. While Claire's Camera, set during the 2016 Cannes festival itself, is charming in places, and bears the hallmarks of his idiosyncratic style, it ultimately feels dashed and somewhat shallow.
The fact that Kim Min-hee and Isabelle Huppert headline, coupled with its Cannes premiere, does mean that Claire's Camera should, like all of Hong's features, have no problems attracting further festival exposure - even if it is unlikely to be ranked among his finest works.
The film follows Manhee (Kim Min-hee), a manager at a film sales company who is abruptly fired during the Cannes film festival by her boss, Yanghye (Chang Mi-hee), for being dishonest. It later transpires Yanghye was acting out of jealousy over the relationship between Manhee and filmmaker So Wansoo (Jung Jin-young), also attending the festival with his new film.
Meanwhile, Claire (Huppert), a teacher from Paris is also in Cannes and, as she walks around the Croisette taking pictures with her polaroid camera, she comes into contact with Manhee and forms a friendship. She also has separate interactions with both Yanghye and So.
Hong's narrative framework, which is often one of the most compelling aspects of his films, again refuses to adhere to a traditional linear structure, forcing the audience to piece the story together. Yet, Claire's Camera lacks the complexity of some of his finest work and, while awkwardness is synonymous with Hong's films, weak performances by Chang Mi-hee and Jung Jin-young — who both struggle with their English lines — don't help the story to flow.
Stylistically, the long takes and abrupt zooms are characteristic of Hong's cinematic techniques, but sound issues are a distraction, perhaps owing to the foreign setting.
Undoubtedly the film's charm comes from the performances of Kim and Huppert, and scenes involving the pair and their tangible chemistry resonate the strongest. (Indeed, it is rather telling that both Min-hee and Huppert have previously worked with Hong; Kim can also be seen in Hong's The Day After, which is premiering in competition this year.)
Production Company: Jeonwonsa Film Co.
World Sales: Finecut Co., Ltd (cineinfo@finecut.co.kr)
Producer: Hong Sangsoo
Cinematography: Lee Jin-keun
Music: Dalpalan
Editing: Hahm Sung-won
Main Cast: Isabelle Huppert, Kim Min-hee, Chang Mi-hee, Jung Jin-young.