Nanouk Leopold's sixth film explores the troubled relationship between a boy and his mother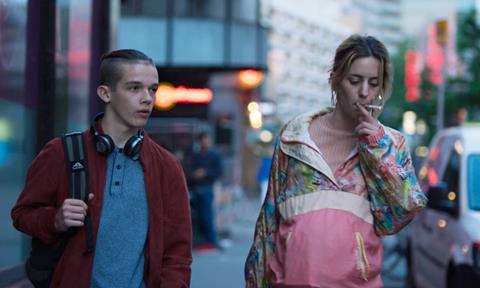 Dir. Nanouk Leopold. Neth-Belg-Ger. 2018. 93min
With her sixth feature, Dutch director Nanouk Leopold once again mines the fault lines of family connection in Cobain, a naturalistic portrait of a willful adolescent and his steadfast devotion to the troubled addict he calls mum.
Leopold relies on naturalistic lighting and hand-held cameras to offer a muted fly-on-the-wall realism
Premiering in Berlin's Generation section before an April release in the Netherlands, this well crafted — if somewhat slight — piece of impressionistic realism should only reinforce the director's reputation on the international art-house circuit, if not quite push it to the next level.
Life ain't easy for boys named Sue or Cobain, as the titular character (sharp-angled newcomer Bas Keizer) has learned many times throughout his scant 15 years of life. Bearing a first name that says an awful lot about his mother's caprices and chemical dependencies, and carrying it like a burden, young Cobain has spent his whole life bouncing between foster homes and juvenile detention without much by way of family connection.
Meanwhile, 30-something addict Mia (Naomi Velissariou) has spent that time in similar tumult, ricocheting from the streets to the flophouse and comparable government centres. Rarely without a cigarette in mouth or beer in hand, the heavily pregnant Mia does not promise to be any better a parent to her second child than she was to her first. "I'm worried about you," Cobain earnestly pleads at one point. "Do I worry about you?" is her brittle reply.
The words no doubt sting, but Leopold – working from a script by Stienette Bosklopper – doesn't overemphasise their lacerating effects. She relies on naturalistic lighting and hand-held cameras to offer a muted fly-on-the-wall realism while also downplaying sharp dramatic turns. The film follows the young man through a series of living arrangements, including a long stretch with Mia's boorish former pimp Wickmayer (Wim Opbrouck) and his stable of girls, and plays out as a series of observed moments and sensual details rather than as a sequence of heavy dramatic beats.
While the film assumes a more impressionistic approach, it still benefits from a few central, animating questions: Just how far does Cobain's seemingly one-sided devotion go? And just who is the subject of his devotion; Mia, or the unborn sibling she carries? But it never poses these questions too confrontationally, instead content to simply follow the lead into a moment and then let the scene play out in close-up on the young man's face.
DoP Frank van den Eeden's nimble moving camera is nicely complemented by a stripped down, guitar heavy score from composer Harry de Wit. The obvious Nirvana songbook may be a tad too pricey for this modestly scaled production, but de Wit's subtly grunge inspired accompaniments ably pick up the slack.
Production Company: Circe Films, A Private View, COIN Film, VPRO Television and The Film Kitchen
International sales: Beta Cinema beta@betacinema.com
Producers: Stienette Bosklopper, Lisette Kelder
Screenplay: Stienette Bosklopper
Cinematography: Frank van den Eeden
Editor: Katharina Wartena
Production design: Elsje de Bruijn
Music: Harry de Wit
Main cast: Bas Keizer, Naomi Velissariou, Wim Opbrouck, Dana Marineci, Cosmina Stratan