Mira Fornay confronts the issue of domestic violence through a boldly-executed absurdist comedy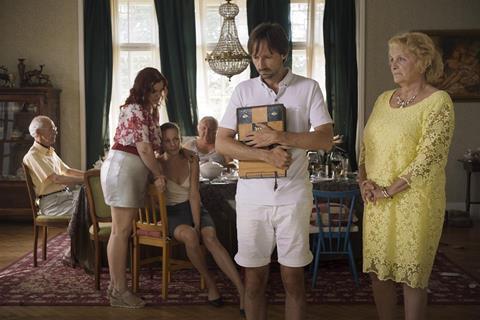 Dir/scr: Mira Fornay. Czech Republic-Slovakia. 2019. 116mins
The latest film by Slovak director Mira Fornay, following her 2013 Rottedam Tiger Award-winning My Dog Killer, is a boldly-executed absurdist comedy, which tackles its central theme – domestic abuse – in a manner very different to the usual gritty realist approaches, with provocative, sometimes discomforting results. Dare one say it, it's also highly entertaining. Festival play seems assured, and it may only be a matter of time before Fornay reaches a wider audience.
A complicated, fascinating film
The film concerns the battle of wills between the paranoid and abusive Jaroslav (Jaroslav Plesl), his wife Blanka (Jazmina Cigankova), and their respective families, over the couple's future. The exact battle lines are never that clear; possibly because Jaroslav himself doesn't have the empathy required to understand where he might be going wrong in his relationship, or what his wife needs of him.
He focuses himself on Blanka's seemingly extreme demand (made perhaps to play for time) to take over his mother Dorota's (Regina Razlova) apartment. If he doesn't deliver, their three children will remain with her mother, who is denying him access. And so Jaroslav sets out to convince Dorota to hand over her home and move in with him; she's understandably unenthusiastic, and won't give it up until her ex-husband Kamil (Jan Alexander), Jaroslav's father, agrees to cook for the whole family – something she knows he's unlikely to do, since he detests her. The parties circle each other, begging, cajoling, blackmailing and yes, occasionally cooking, in an attempt to get what they want.
While that set-up feels pretty arch in itself, its telling sends it off the charts. Jaroslav's mission to acquire the apartment, secure his marriage and retrieve his children is told three times, each following roughly the same course around town and punctuated by similar components – the Greek chorus of women who chase him from a supermarket with their silent accusations; the jukebox thrown out of an apartment window and aimed squarely at him; a mysterious, disturbing young girl in a river, and so on. With a touch of Groundhog Day, Jaroslav will try to learn from his tactical mistakes each time. In the final segment he's actually a woman – Plesl's listless loser in white shorts and sandals being replaced by the strong-featured, much more self-possessed Petra Fornayova (though the results are not as clear-cut as one might hope).
The characters offer their own jaw-dropping spectacle; none more so than his mother Dorota, a sly, lascivious schemer who first appears stark naked except for a facemask and who, in Razlova's hands, provides the film's chief source of edgy entertainment. Some may feel that Fornay's elliptical approach fails to seriously confront the causes and consequences of domestic violence, and that a comic presentation of an abuser who continually professes love of his wife and concern for his children lets him off the hook. Yet Jaroslav's simpering is very much the point. The film's keynote scene involves Dorota's new lover, who happens to be Blanka's father, Gustav (Bohuslav Zarychta). An overweight, powerful man, Gustav seeks to dissuade Jaroslav from abusing his daughter by enacting upon him the kind of almighty beating he himself used to inflict upon Blanka's mother – accompanied by the mantra, "this is how I loved my wife." It's a brutal, extraordinary way to illustrate the emotional hypocrisy and self-delusion of abusers.
Cinematographer Tomas Sysel's often handheld camera constantly shadows Jaroslav, whether he's driving around in his converted ambulance (a strange choice given his propensity for violence) or walking through apartment blocks and shopping arcades. Characters sometimes freeze mid-stride, or comment on the action, adding to the sense that we're watching a fable of sorts. Kamil's eventual dinner, a drawn-out, amusingly uneventful affair accompanied by Vivaldi, could be Bunuelian. People die but may get to live again, just one self-perpetuating cycle in a complicated, fascinating film.
Production companies: Cineart TV Prague, Ceske televize, Mirafox, Rozhlas a televizia Slovenska, Synergie film
World sales: Cercamon, hello@cercamon.biz
Producers: Viktor Schwarcz, Mira Fornay
Production design: Jana Bohackova
Editing: Mira Fornay
Cinematography: Tomas Sysel
Main cast: Jaroslav Plesl, Petra Fornayova, Jazmina Cigankova, Regina Razlova, Jan Alexander, Bohuslav Zarychta, Roman Lipka, Irena Bendova