Dir. Tom Geens. UK-Belgium-France, 2015, 105 minutes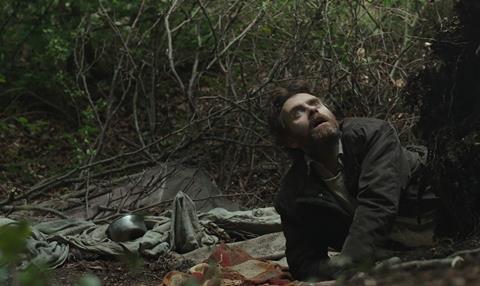 Belgian-born, London-resident filmmaker Tom Geens makes a confident bid for international arthouse audiences with his aptly titled second feature Couple In A Hole. Telling the story of a British married couple living wild in a French wood, this endearingly oddball item initially earns comparisons with the surreal concoctions of another Continental transplant to London – Greece's Yorgos Lanthimos – before gradually revealing a back story that increasingly grounds events in a relatable emotional reality. Following the film's triple win at the just-wrapped Dinard 2015 edition, including the top prizes of the jury and audience, further acclaim on the international festival circuit looks probable, followed by niche theatrical play.
Geens proves skilful at sustaining intrigue, assisted by his sparse cast, with a performance from a rake-thin Dickie which is entirely untainted by vanity
Couple In A Hole announces from the get-go that while its title may be also metaphorical, it's primarily literal. Scottish pair John (Paul Higgins, TV's Utopia) and Karen (Kate Dickie, Red Road) have made their forest home in the surprisingly capacious space opened up under the roots of a fallen tree.
An evidently traumatised Karen is severely agoraphobic, and can only be tempted from her earthy cavern for a brief period with the nutritious reward of her favourite grubs. Dialogue is kept to a bare minimum as Paul is shown setting traps for animals, skinning a rabbit, foraging for edible berries and leaves, and massaging the damp-chilled arms, hands and fingers of his partner.
The film's plot motor is a poisonous spider bite suffered by Karen: Paul must go to the small town nearby, and secure medicine. Stealing fresh clothes from a washing line to make his appearance seem more presentable, he nevertheless finds himself unable to enter the chemist. Now the intervention of a friendly local, Andre (Jérôme Kircher), begins a process where Paul is tentatively drawn into a more socialised world, leading a double life while assuring his increasingly suspicious wife that their isolation remains complete.
Geens, who made his debut with 2009's Menteur (Liar), proves skilful at sustaining intrigue, doling out sufficient narrative tidbits to carry the audience with him. He's assisted by his sparse cast, with a performance from a rake-thin Dickie which is entirely untainted by vanity, and vital warmth emanating from the friendship that tentatively emerges between Paul and farmer Andre. Corinne Masiero, as Andre's aggressive wife Celine, struggles to get much traction from a role that functions primarily as plot device.
Attentive viewers may begin to surmise the traumatic causation at work here, which is linked to a burned-out cottage visited by Paul, and also to Andre and Celine. But it's in this area of conventional narrative storytelling that Geens proves less sure-footed, while his film's under-resourced melodramatic climax is staged so impressionistically, it remains open to ambiguous interpretation – intentional or otherwise.
With almost all of the action occurring outdoors, the midi-Pyrenees woodland and farmland locations offer Couple in a Hole a major assist, photographed by Sam Care (In Our Name). A studio shoot at London's 3 Mills Studios, presumably for sequences inside the couple's forest lair, blend seamlessly. Score by BEAK>, a side project for Portishead's Geoff Barrow, provides an apt foreboding and dramatic underpinning, as well as a handy marketable element. Production notes, incidentally, bill Couple In A Hole as Geens' theatrical debut, with Karlovy Vary title Menteur described as a TV feature.
Production companies: 011 Productions, Chicken Factory
International sales: 011 Productions, zp@zerodoubleone.com
Producer: Zorana Piggott
Screenplay: Tom Geens
Cinematography: Sam Care
Editor: Alain Dessauvage
Production design: Richard Campling
Music: BEAK>
Main cast: Paul Higgins, Kate Dickie, Jérôme Kircher, Corinne Masiero
Main cast: Paul Higgins, Kate Dickie, Jérôme Kircher, Corinne Masiero