Chucky returns to wreak more havoc in this latest addition to the killer doll franchise.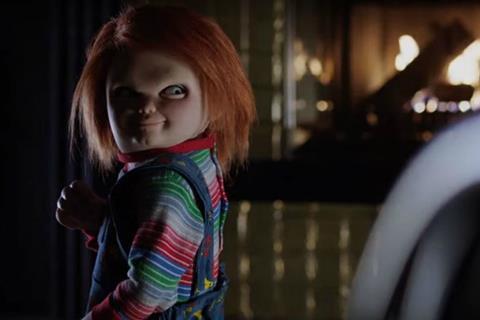 Dir/scr: Don Mancini. US. 2017. 91 mins.
Screenwriter Don Mancini first created Chucky, the child-sized doll possessed by a voodoo serial killer, for Tom Holland's efficient horror movie Child's Play (1988). Mancini, who has had a hand in writing all the sequels, took over the series as director with Seed of Chucky (2004). Since then, the tone of the saga has shifted with with sequels seeming to arrive in matched pairs. Child's Play 2 (1990) and Child's Play 3 (1991) are mainstream studio horror franchise efforts, while Bride of Chucky (1998) and Seed of Chucky (2004) offer post-modern jokiness.
Cult Of Chucky is basically another series of gruesome murders committed by a wisecracking doll
This latest entry picks up in plot and mood from Mancini's Curse of Chucky (2013), with back to basics nastiness along with the cruel quips, and plays to longtime fans by resurrecting characters from earlier films while keeping up with plotlines carried over from earlier sequels. It brings us up to date on what's happening with Andy Barclay (Alex Vincent), the now-grown-up kid Chucky was trying to possess in the first three films, and Jennifer Tilly (Jennifer Tilly), the actress possessed by Chucky's evil girlfriend Tiffany a few films ago.
The film opens, however, with paraplegic Nica (Fiona Dourif) who, after being framed for murders committed by Chucky at the end of the previous film, is now confined to an institution with a bunch of eccentric patients and as worried by those who believe her story as those who think she's a delusional mass murderer.
Elsewhere, Andy - who still can't get a date because of his childhood claims about his monsterous doll - keeps the severed head of the original Chucky in a wall-safe and passes his evening torturing the chatty relic (still voiced by Brad Dourif) with a blowtorch. Thanks to the Tiffany-possessed Tilly, however, the terms of the original voodoo ritual have been amended and now dead serial killer Charles Lee Ray can now animate any Chucky doll – though that model has become a collector's item on the antique toys market.
When an unwise doctor (Michael Therriault) thinks that Nica's delusions will be shattered if he brings dolls into group therapy, soon the asylum has three of the little monsters scurrying around in various states of disrepair. They have vicious little conclaves between the serious business of killing off as many people as possible, all the while making Nica look even more guilty than she did before.
Universal's 1440 Entertainment sub-division specialises in keeping minor franchises going with homevideo/streaming and cable TV in mind; they've produced new films in the Tremors, Death Race, Scorpion King and Beethoven series, and crafted scarcely essential sequels to Big Fat Liar, Kindergarten Cop, Hard Target and Jarhead. Curse Of Chucky was one of their first productions, and by now they've honed the business of making unnecessary sequels less painful than they might be.
So, Cult Of Chucky is basically another series of gruesome murders committed by a wisecracking doll – who, moreover, will soon have to admit that has lost his Scariest Doll in Horror Cinema tiara to Annabelle – but Mancini finds wriggle room inside the strait-jacket of franchise requirements. Here, his focus is on the way once-normal people like Andy, Nica and Jennifer Tilly have been warped by their horrific experiences.
And any real dramatic feeling is down to Fiona Dourif, given interesting things to do as a wheelchair-bound heroine – no sooner has she had sex with seemingly the most normal guy in her group, for example, than he turns out to be a multiple personality whose other selves are flakier. Of course, thanks to the theme of possession, several other performers get to play multiple characters; Brad Dourif particularly enjoys himself as several competing or collaborating Chuckys.
Production companies: Universal 1440 Entertainment
International sales: Universal
Producer:s Ogden Gavanski, David Kirschner
Executive producer: Don Mancini
Cinematography: Michael Marshall
Production Design: Craig Sandells
Editor: Randy Bricker
Music: Joseph LoDuca
Main Cast: Jennifer Tilly, Fiona Dourif, Brad Dourif, Alex Vincent, Michael Therriault, Summer H. Howell