A beautifully acted and crafted drama from Laura Bispuri plays in Competition in Berlin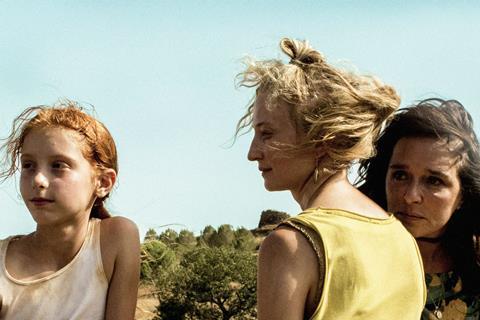 Dir. Laura Bispuri. Italy/Germany/Switzerland. 2018. 100 mins
Two mothers, the birth mother and the adoptive one, battle for their 10-year-old daughter's affections during an emotionally heated Sardinian summer, in this beautifully acted and crafted drama. Following Italian helmer Laura Bispuri's 2015 feature debut Sworn Virgin, which also played in the Berlinale competition, Daughter Of Mine offers another, if very different tale of female self-discovery. Fronted by two fabulously vital performances by Italian stars Valeria Golino and Alba Rohrwacher, it should certainly attract further festival kudos.
Bispuri and her actresses offer a striking study in contrasts
Bispuri signals her robust approach from the get-go, with a sequence that follows young Vittoria (scene-stealing newcomer Sara Casu), as she purposefully surveys some beach festivities. A mobile camera follows the girl as she enters a rodeo and, walking between the stalls, interrupts a couple having standing sex in broad daylight. Vittoria quickly leaves and finds her mother, Tina (Golino), who – a tad more conventionally – is buying candy floss. It's immediately apparent that the resemblance that the red-haired girl bears is not with the handsome, full-figured Tina, but the skinny strawberry blonde Angelica (Rohrwacher), who is drunkenly adjusting her tube mini behind her.
Bispuri and co-writer Francesca Manieri refreshingly avoid making a mystery of their scenario. It's soon established that Angelica is Vittoria's birth mother, who lives on a run-down farm deep in the countryside. Tina occasionally visits the farm to clean and bring provisions; when she and her husband Umberto (Michele Carboni) agree that "we always did what we could", it's clear that this was an informal and pragmatic deal between the usually drunk pleasure-seeker and a couple wanting a child. And it's been working very well.
That changes when Angelica announces that she's being evicted and asks to meet her daughter, just once, before she leaves for the city. Tina agrees, unprepared for the fact that lonely Vittoria will become fascinated with the strange creature before her.
Bispuri and her actresses offer a striking study in contrasts. Tina is a regular churchgoer, and cares for her family while also working in a fishery; Golino gives her a steady, earthy quality. In a gloriously rude performance far removed from the 'sworn virgin' of Bispuri's earlier film, Rohrwacher makes Angelica as outrageous as she can be without losing our sympathies. When she's not on the farm comically berating her animals, or taunting a local horse trader (Udo Kier), she's a barfly – constantly seeking sex and free drinks. Yet, unlike Tina, she has a sense of fun that can be adapted to the child, and her itinerary of rock climbing, swimming and dancing to cheesy Italian pop soon draws the girl out of her shell.
The ensuing conflict between the saint and sinner, a woman suddenly afraid of losing her child and one who's surprised to find she has maternal instincts, is deceiving; for the person pulling the strings is Vittoria, a little explorer steadily eyeing the future, who's not so much deciding between the rival mothers but finding her own voice.
Bispuri and her cinematographer Vladan Radovic gorgeously evoke their setting, whether the vast expanse of dry bush that is Angelica's home, or the grainy environs of her favourite bar. In three stand-out sequences, Radovic's hand-held close-ups, composer Nando Di Cosmo's spirited guitar and the actors combine to set emotional markers on this trio's eventful journey towards each other.
Production companies: Vivo film, Colorado Film, Match Factory Productions, Bord Cadre Films
World sales: The Match Factory, info@matchfactory.de
Producers: Marta Donzelli and Gregorio Paonessa, Maurizio Totti and Alessandro Usai, Michael Weber and Viola Fügen, Dan Wechsler
Screenplay: Francesca Manieri, Laura Bispuri
Cinematography: Vladan Radovic
Production design: Ilaria Sadun
Editor: Carlotta Cristiani
Music: Nando Di Cosimo
Main cast: Valeria Golino, Alba Rohrwacher, Sara Casu, Udo Kier, Michele Carboni