Doc looks at Australia's beloved critic and the national film industry he has assessed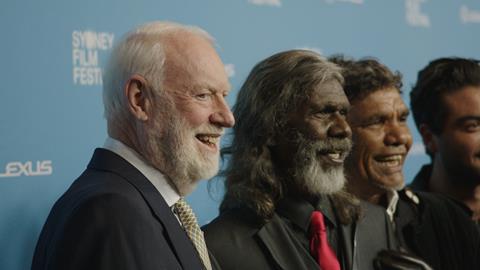 Dir/scr. Sally Aitken. Australia. 2016. 97 mins.
After spending his career watching, curating and analysing movies, Australia's beloved film critic makes an easy, informative and engaging switch to starring in his own. Screening in Cannes Classics following a March cinema release in his adopted homeland, David Stratton: A Cinematic Life pairs an account of Stratton's journey from British-born cinephile to Sydney Film Festival director to respected reviewer with a primer on Australian cinema itself.
As a survey of the Australian movie landscape, this should inspire viewers to seek out the titles covered.
While Stratton has an international reputation it's the latter focus — and the likes of Nicole Kidman, Russell Crowe, Geoffrey Rush, Jacki Weaver, Judy Davis, Hugo Weaving, George Miller, Gillian Armstrong and Fred Schepisi singing his praises on screen — which give the film its best hopes of securing further limited festival play. Streaming platforms seem an ideal eventual home, although there is a rival three-part television version on the way (David Stratton's Stories of Australian Cinema, set to air in Australia in June).
A Cinematic Life covers the same biographical details as Stratton's 2008 autobiography I Peed on Fellini: his passion for movies from childhood, his apprenticeship in the family grocery business, and his life-changing arrival down under as a "ten-pound Pom" . He swapped ushering for running a festival, earned attention from Australia's chief intelligence organisation due to his trips overseas, and became the nation's answer to Roger Ebert during his 28 years reviewing films on TV with Margaret Pomeranz — who also pops up.
After linking his own emigration with Wake in Fright's newcomer in the outback, Stratton keenly and astutely dissects seminal efforts such as My Brilliant Career, Mad Max, Muriel's Wedding, Shine and Lantana in the same manner. In support, hard-working editor Adrian Rostirolla (Infini) deftly splices together a rousing package of footage from more than 100 movies. As an ode to Stratton's impact and the transformative power of film, Aitken's documentary succeeds handsomely. As a survey of the Australian movie landscape, it should inspire viewers to seek out the titles covered.
Aitken comes to the feature with TV credits and documentary Getting Frank Gehry on her resume. Lensed by Kevin Scott, A Cinematic Life's cinematic moments stem from its assembly of clips, rather than its talking heads, archival photos, foray into Stratton's home catalogue or jaunts across the country to iconic movie locations. Caitlin Yeo and Angela Little's score is, appropriately, just as serviceable yet warm; here, affection begets more of the same.
Production Company: Stranger Than Fiction Films
International Sales: Stranger Than Fiction Films, jo-anne@strangerthanfictionfilms.com.au
Producer: Jo-anne McGowan
Executive producers: Jennifer Peedom, Andrew Mackie, Richard Payten, Megan Young, Mandy Chang, Amanda Duthie
Cinematography: Kevin Scott
Editor: Adrian Rostirolla
Music: Caitlin Yeo, Angela Little