A pitoval summer for a young boy in rural Arkansas marks Amman Abbasi's debut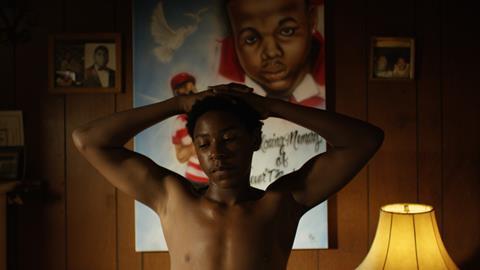 Dir. Amman Abbasi. US, 2016, 75mins
There are some depressingly familiar elements in Dayveon, from a weary, endless summer to a teenage boy inexorably drawn into gang life and a frequently mentioned firearm that is sure to prove significant. Writer/director/composer Amman Abbasi fights against those cliches with an atmospheric, immersive evocation of rural Arkansas and an emphasis on closely observed lives rather than narrative drive. The result is a slight but ultimately moving drama with a future that seems likely to be limited to the festival circuit.
It becomes clear that Abbasi is more beguiled by mood, pace and character than the story
One of the brighter elements of Dayveon is the presence of Devin Blackmon as the thirteen year-old title character. He provides an engaging portrait of a youngster struggling to find himself, offering the sense of someone poised between naive and knowing, childhood and adulthood. His traditional growing pains are only intensified by the recent death of his older brother and a consequent feeling that nothing matters or makes any sense. The film begins with him cycling through town, dismissing the "stupid tree", "stupid concrete", "stupid sky" and everything that surrounds him including "the stupid bike I'm on."
Dayveon lives with his older sister Kim (Chasity Moore), her boyfriend Brian (Dontrell Bright) and their son. Brian seems prepared to step up and provide Dayton with an older male role model but the teenager is equally drawn to Mook (Lachion Buckingham), the leader of a local gang of Bloods who seem to be offering him support and somewhere he might feel like he belongs.
Abbasi spends a good deal of Dayveon's modest running time allowing the audience to step into the daily lives of characters who hang around with nothing much to do; bored, aimless, smoking dope or planning trouble. There is a self-conscious, documentary-like approach to some of those scenes and the film is more convincing in its more relaxed, natural-feeling moments when Dayveon spends time with more sensitive gang member Brayden (Kordell "KD" Johnson) who has been shot in the leg.
It becomes clear that Abbasi is more beguiled by mood, pace and character than the story. Rural Arkansas is marked by dappled sunshine, the whisper of wind in the trees and an infestation of bees that slowly build their nest in a tree right outside Dayveon's front door. It is in these moment that Abbasi's style most clearly evokes that of David Gordon Green who is one of the film's executive producers along with James Schamus. Abbasi's own melodic music compositions add to the abstract quality of those scenes.
It is only when it comes to the plot that Abbasi really falters. A doom-laden scenario suggests that some involvement in criminal activity is inevitable and the hints of redemption or reconciliation in the closing moments are so tentative and readily achieved that they fail to provide the emotional high that might have been expected. The result is a film that feels longer than its running time but also provides a calling card for the talent and promise of a filmmaker who could be at the start of an interesting career.
Production companies: Symbolic Exchange, Salem Street Entertainment, Mama Bear, Meridian Entertainment, Rough House Pictures, Muskat Filmed Properties, Cximple
International Sales: Visit Films info@visitfilms.com
Producers: Amman Abbasi, Lachion Buckingham, Alexander Uhlmann
Screenplay: Amman Abbasi, Steven Reneau
Cinematography: Dustin Lane
Editor: Dominic LaPerriere
Music: Amman Abbasi
Main Cast: Devin Blackmon, Kordell "KD" Johnson, Dontrell Bright, Chasity Moore,