Directors: Noah Baumbach, Jake Paltrow. US 2015. 107 mins.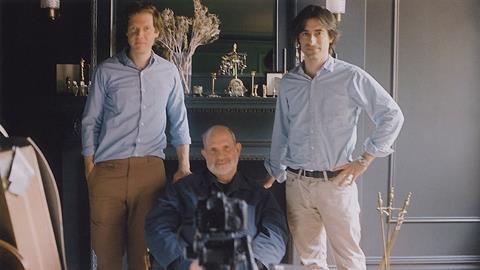 A Hollywood master - and, in his time, a champion controversialist - talks and talks, and barring a few film clips, that's about the measure of De Palma. But a very basic formula, executed in bare-bones fashion, works a treat because this set of interviews with Brian De Palma on his life and films is so revealing, and entertaining, that little is needed here other than the man, his opinions and some telling illustrations.
What will certainly frustrate viewers is De Palma's dismissal of questions about his depiction of violence against women
De Palma may seem an unlikely documentary subject for Noah Baumbach, whose own films - most recently Mistress America - have been in a far lighter mode than anything by Hollywood's foremost Hitchcockian. But he and co-director Jake Paltrow (Young Ones, The Good Night) have, their press synopsis reveals, spent much time with De Palma for over ten years, and this closeness allows him to be far more open with them than he presumably would be with other documentarists; the maestro is at times cheerfully indiscreet about collaborators and behind-the-scenes wrangling.
When it comes to aesthetic insights from one of Hollywood's most cerebral masters of technique, De Palma is a blue-chip masterclass that will be required viewing for film students and cinephiles. Not an obvious theatrical prospect beyond the fact of its multitudinous clips best being viewed on the big screen, De Palma should win niche exposure, but go great guns on VOD and at festivals.
The film's structure is basically that of a filmic equivalent of the director-on-director books published by Faber & Faber over the years: a set of interviews covering De Palma's career film by film, prefaced by a section on his early years. De Palma is interviewed talking-head style, the directors' questions never heard - which means that anyone intrigued to know Baumbach's personal views on his subject will be frustrated (only at moments does it become clear that De Palma is specifically addressing his interviewers as film-makers themselves).
The film starts by juxtaposing clips of De Palma's with Hitchcock's Vertigo - the film that was his moment of illumination in becoming a director. De Palma later claims that no other director truly took on Hitchcock's stylistic influence, which might have come as a surprise to Claude Chabrol, but no matter.
The first section covers De Palma's youth in Orange, New Jersey, and throughout the film, he's candid about his family background - his learning to be tough by sticking up for his brother, and the problems of growing up with a distant father; later, he unsettlingly reveals that the Keith Gordon boy detective character in Dressed to Kill was inspired by his own shadowing his dad as De Palma Sr. went about his philandering. All in all, De Palma comes across as unsparingly frank, sometimes harsh, entirely uninterested in being liked and yet intensely likeable as a witty, sometimes brutally to-the-point raconteur.
The film's most fascinating chunk covers the early years, as various titans-to-be hove into view - a very young and raw Robert De Niro, and fellow 60s tyros Spielberg, Coppola and Lucas, of whom De Palma says, "what we did in our generation will never be duplicated". There are also hilarious accounts of nightmarish on-set episodes involving sacred monsters such as Orson Welles, Al Pacino and a belligerent Sean Penn.
Themes covered range from the art of the long take, De Palma's dislike of car chases, and his views on the iniquities of US foreign policy, a theme that inspired his films Casualties of War and Redacted. What will certainly frustrate viewers is De Palma's dismissal of questions about his depiction of violence against women, a theme that has continued to generate debate over the years; he even dismisses such critiques as a matter of fashion.
Finally, De Palma explains his latterday abandonment of Hollywood for Europe, and the film briefly breaks its uniformity to follow him along a New York street. The rough finish of the edit, with some awkward cuts, suggests the film is still awaiting a polish (it was shown in Venice sans credits), and it may well be that a longer version is in store - one suspects that the directors came away with hours more of this priceless stuff.
Production company: Empire Ward LLC
International sales: laub@a24films.com
Producers: Noah Baumbach, Jake Paltrow
Cinematography: Noah Baumbach, Jake Paltrow
Editors: Matt Mayer, Lauren Minnerath