Dir. Andrew Steggall. UK-France, 2015, 109 minutes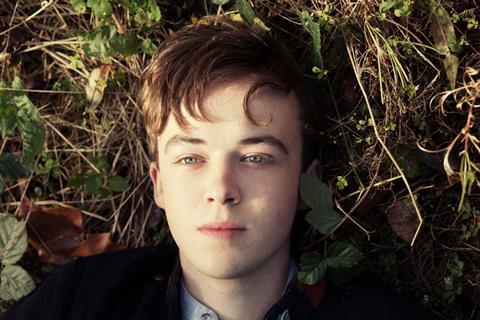 Alex Lawther, who made such a vivid impression with scant screen time as the schoolboy Alan Turing in Benedict Cumberbatch starrer The Imitation Game, steps up impressively into his first lead role in Departure. This feature debut by theatre and short films director Andrew Steggall is an assuredly composed coming-of-age tale about a poetry-scribbling teenage boy nursing a barely reciprocated crush on a more boldly masculine French lad, one late-summer week in southern France. Sensitive gay audiences should respond enthusiastically at festival slots and niche theatrical play, following the picture's official world premiere at the London Film Festival.
Steggall and Lawther succeed in putting an individual spin on the familiar pain of adolescence
Although evidently set in the present, Departure yields a sweetly nostalgic quality, as 15-year-old Elliot (Lawther, a 2015 Screen International Star of Tomorrow), never seen without his vintage French soldier's jacket, wafts moodily around the Languedoc countryside. He's here with his mother Beatrice (Juliet Stevenson) to spend one last week at the family's holiday home, helping her regretfully pack up and dispose of furniture before the sale of the house completes. He's an only child, with a seemingly absent father, and appears never to have made friends in the local village.
Although he tries not to show it, Elliot is excited to win the companionship of Clément (Phénix Broassard), who he first spies alone, smoking semi-naked, before plunging for an illicit swim in the local reservoir. The contrasting personalities of the two teenagers are initially rather broadly telegraphed – formal Elliot says "Bonsoir"; casually attired Clément replies "Salut" – but complexities emerge the more time the two spend together. Meanwhile Clément provides a necessary corrective to the rather precious Elliot, teasing him for his poetic and actorly affectations.
Ultimately, Elliot proves the more straightforward of the two youngsters, in that he is the one that knows what he wants: Clément. His enigmatic friend, who has a mother in a terminal cancer ward in Paris, takes time to let his buried hurt surface. He also surprisingly submits to a lustful kiss from Beatrice, and a little bit more from Elliot – eager, after all, for human contact.
Buoyed by brief bursts of elegiac piano score, and one nicely evocative cut by English singer-songwriter Oliver Daldry, Steggall unwinds a sustained, if occasionally rather languorous, mood piece, frequently reaching to water imagery for metaphor and meaning. The screenplay has a keen ear for detail: you wince every time Beatrice tells her son, just as you'd instruct a child, to wash his hands. And its restrained tone and still camera compositions make the film's occasional dramatic gestures – Elliot grabs a stinging nettle as he awaits a response after impulsively confessing his love to Clément – all the more effective.
By the time Elliot's father (Finbar Lynch) has arrived to sign the deed of sale, more secrets are out in the open – pulling Departure closer to a more conventional drama of bourgeois family disconnect. But this remains, finally, Elliot's story, and Steggall and Lawther do succeed in putting an individual spin on the familiar pain of adolescence. Life back in England will be different for Elliot, it's evident – a departure that proves both literal and satisfyingly figurative.
Production companies: Motion Group Pictures, Connectic Studio
International sales: Mongrel International, charlotte@mongrelmedia.com
Producers: Pietro Greppi, Guillaume Tobo, Cora Palfrey
Screenplay: Andrew Steggall
Cinematography: Brian Fawcett
Editor: Dounia Sichov
Music: Jools Scott
Main cast: Alex Lawther, Juliet Stevenson, Phénix Brossard, Finbar Lynch, Niamh Cusack, Patrice Juiff
ends