The director's family history on the wrong side of racism is an intense, hypnotic experience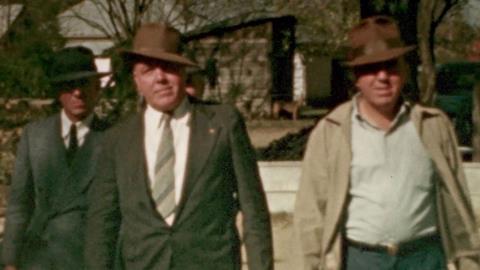 Dir/scr: Travis Wilkerson. US. 2017. 90mins
One family's incendiary history assumes the dimensions of a James Ellroy novel in Did You Wonder Who Fired The Gun?, an intensely personal work from documentarian Travis Wilkerson (An Injury To One, Machine Gun Or Typewriter, etc). His forensic examination of the past speaks directly to the present in an unsettling film that confronts the enduring racism at the heart of American society.
In 1946, Wilkerson's great grandfather S. E. Branch shot dead a black man called Bill Spann in Dothan, Alabama.
Performed live as a one-man multimedia show at Sundance and the True/False Film Festival, Did You Wonder should now travel more fully as a complete feature film with soundtrack narration from Wilkerson. It is a more radical, experimental piece than, say, I Am Not Your Negro but it shares themes and emotions that could allow it to connect on a more modest level with a similarly committed audience.
Wilkerson begins with a consideration of writer Harper Lee and her classic novel To Kill A Mockingbird, represented here by scenes from the 1962 screen version starring Gregory Peck as saintly white lawyer Atticus Finch. Wilkerson warns us that his film is not about a "white saviour" but is a "white nightmare story".
In 1946, Wilkerson's great grandfather S. E. Branch shot dead a black man called Bill Spann in Dothan, Alabama. It was a case of first degree murder and yet there is no record of charges ever being filed. Did Branch get away with murder? What kind of man was he? What is known about his victim?
A whole series of unanswered questions sets Wilkerson on an investigation in which he is as dogged as any film noir detective. He starts gathering information, searching for clues, jumping to conclusions and discovering things that he might not necessarily have wanted to know. Wilkerson has family photos, home movies and the testimony of living relatives that allow him to build a picture of Branch but he is also met with evasion, long-buried secrets and the growing belief that there are some significant skeletons rattling around in the family closet.
The film noir ambiance persists throughout Did You Wonder in Wilkerson's lugubrious narration and in his use of melancholy monochromatic images of derelict buildings, abandoned homes and one-dog towns. There is a recurring, almost Lynchian visual theme of Wilkerson driving along motorways, gliding through the shadowy, threatening darkness with only blood red sunsets to light his way.
Wilkerson's four years of research move far beyond the family history to include an interview with garrulous Civil Rights activist Ed Vaughn, stories of Rosa Parks' early career, murdered white activist William Moore and the activities of the Southern Nationalist Network who recognise only the Confederate flag and consider Dixie to be their national anthem.
The more Wilkerson delves into the past, the more obvious it becomes that the story of Branch and the murder of a black man is one that is repeated countless times over in the American south. You can sense a rising tide of horror in a film where racism is embedded in the DNA of the country.
The sense of urgency in Wilkerson's quest is underlined by a deft use of music that ranges from Billie Holliday's Strange Fruit to Janelle Monae's protest song Hell You Talmbout. The feelings of guilt, shame and anger shape Did You Wonder? into an intense, hypnotic experience.
Production company/International sales: Creative Agitation exlow@mac.com
Producer: Travis Wilkerson
Cinematography: Travis Wilkerson
Editor: Travis Wilkerson
Music: Travis Wilkerson