The second feature from Ariel Escalante Meza is 'a mournful, achingly atmospheric tale' set in rural Costa Rica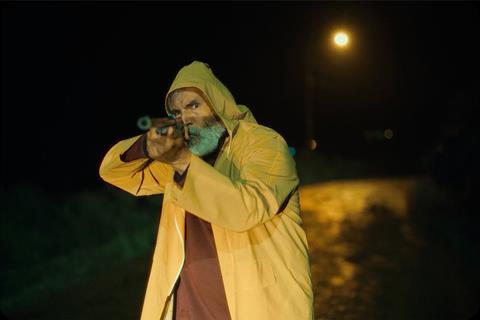 Dir/scr: Ariel Escalante Meza. Costa Rica, Qatar. 2022. 92 mins.
The personal and political are increasingly intertwined in Domingo And The Mist (Domingo y la niebla). The second feature from writer/director Ariel Escalante Meza (The Sound Of Things, 2016) uses the dilemma facing a widowed dairy farmer to reflect on wider issues of loss, grief and redemption. The result is a mournful, achingly atmospheric tale that was a work-in-progress at the Doha Institute's Qumra. It should attract attention from committed arthouse distributors and streamers following a Cannes world premiere.
Domingo and The Mist unfolds in shades of melancholy and regret, making for a sombre, reflective film
Domingo (Arena) feels like the last man standing in his corner of rural Costa Rica. Filming took place in Cascajal de Coronado outside the capital San Jose. Domingo tramps along country roads and through forests adding a splash of contrast to the lush green vegetation with his canary yellow waterproof and plum-coloured sweatshirt. He is not somebody prepared to blend into the scenery. He still resides in the house of his father-in-law, a property that was inherited by his late wife. The past is very much alive for him. His remaining friends are nearby and his daughter Sylvia (Sossa) runs a local cafe. It may still hold meaning for him but the countryside we see is permeated with a decline marked in empty cattle sheds and abandoned farms. Planners are intent on building a highway and want the area cleared. A smooth-talking official seesaws between intimidation and bribery to achieve their ends, promising deals that it would be wise not to refuse.
Ariel Escalante Meza skilfully evokes a sense of this backwater, particularly in a sound design that immerses us in the squelch of a muddy footprint, the slow, tumbling of rainwater on forest trees, the crackle of dry wood igniting in a stove fire and the distant burst of nighttime gunfire. Domingo is a solitary, steadfast figure in these landscapes. There are elements of a traditional western in his position as a rugged individual holding out against the dubious forces of progress. That impression is encouraged by the Morricone-like elements in Alberto Torres' pungent score. His jittery mix of choral voices, jagged breathing and a wide range of instruments further enhances the sense of danger in the course that Domingo chooses to pursue.
As those around him falter and capitulate, we gain a wider sense of lives marked by debt, crop failure and disappointment. Many have taken sanctuary here seeking a second chance that has never materialised. Domingo has his own particular reason for refusing to move. A thick, billowing mist snakes its way through the forest and into his home in which he feels the presence of his late wife and can communicate with her. The ghost of that past ties him forever to the land and the way the mist envelopes him tips the film into Apichatpong Weerasethakul territory.
Meza's screenplay moves beyond a simplistic David and Goliath scenario to reach for something more complex and rueful. Domingo's opposition to the construction of the highway makes him a heroic figure. His sense of the past and his relationship with his wife may be much more romanticised than he would care to admit. His daughter has a far less sentimental perspective on their family life. "Mother died of sadness," she chides.
Domingo and The Mist unfolds in shades of melancholy and regret, making for a sombre, reflective film that gets under the skin of the central figure. Carlos Arena is in every scene and invests Domingo with a weary, dogged determination. There is a sense that he cannot veer from the path he has chosen and cannot relinquish what it means to him. Sylvia Sossa is a spirited sparring partner as the sceptical daughter who seems to know him better than he knows himself and there is a spark to the moments they share.
Production company: Incendio Cine
International sales: Films Boutique. contact@filmsboutique.com
Producers: Felipe Zuniga Sanchez, Nicolas Wong Diaz, Gabriela Fonseca Villalobos, Julio Hernandez Cordon, Ariel Escalante Meza
Cinematography: Nicolas Wong Diaz
Editing: Lorenzo Mora Salazar
Prod design: Celeste Polimeni
Music: Alberto Torres
Main Cast: Carlos Arena, Sylvia Sossa, Esteban Brenes Serrano, Aris Vindas