The machinations of a Mexican tequila factory make for compelling dramatic intrigue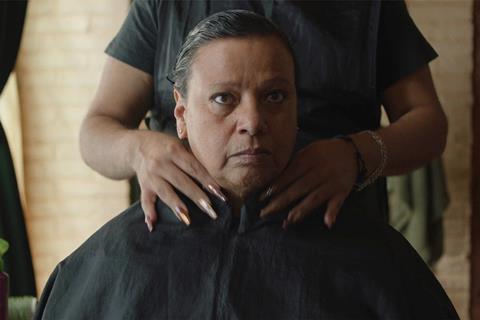 Dir. Juan Pablo González . Mexico/France/US. 2021. 99mins.
Given that it's about a tequila factory, Mexican drama Dos Estaciones is as sobering as they come – but it's also a bracingly potent distillation of drama, psychological portraiture and passionate flouting of clichés, both national and sexual. Fronted by an arrestingly contained performance by Teresa Sánchez, with a largely non-professional supporting cast, the film is as rigorously controlled as its heroine; it mixes imposing but cleanly executed realist visuals with acute observational finesse, given a stamp of authority by writer-director Juan Pablo González's own background in the Mexican state of Jalisco. Subtle dramatic heft, plus cannily pitched LGBT content, should get the film very much noticed when it premieres in Sundance's World Cinema Dramatic Competition.
Richly nuanced from the performance point of view, with Sánchez giving away only so much but suggesting a great deal
González's first drama feature, following several shorts and 2018 documentary Caballerango, the film is set and shot around Atotonilco El Alto in the western Mexican state of Jalisco, famed for its tequila production. Maria García (Sánchez) is a 50-year-old woman who runs an independent tequila company on her family's land, which she has developed into a fertile plantation of the agave plant. Taciturn and introverted, Maria is clearly respected by her small but tight-knit staff, running her business quietly but with absolute command – her short hair and no-nonsense khaki shirts giving her the look of a determined army general. Times are tough, however: the region's agave plantations are beset by a plague of fusarium fungus, while artisanal tequila businesses like Maria's face fierce competition from much bigger US-owned concerns in the area.
When Maria – rather like respected but slightly feared royalty – drops in on an employees' family party, she meets a young woman new to the area, Rafaela (Rafaela Fuentes). Coaxing Maria into conversation, Rafaela introduces herself as an experienced all-rounder in the tequila industry (non-professional performer Fuentes is herself a tequila factory administrator in real life). With their scenes meticulously downplayed, it's not entirely certain from the start whether Rafaela is being friendly or astutely playing on Maria, but she instantly lands a job as her business manager with lodgings thrown in.
Gradually, very gradually, Maria's chilly exterior thaws under the sway of what appears to be her romantic or sexual attraction to Rafaela, and we wonder whether the women will become more than a manifestly solid professional pairing. But by and by, mounting commercial challenges, the fungus plague, volatile weather and indeed, Maria's emotional isolation and beleaguered psyche will combine to push this fiercely independent woman to a point of crisis.
Along the way, an apparent digression follows an episode in the life of hairdresser and make-up artist Tatín (Tatín Vera), a transgender woman who runs a salon (the film uses Vera's own business), and who is seen enjoying a liaison with middle-aged Fernando (José Galindo), a thoughtful soul and part-time landscape painter she meets in a local casino. Tatín's story may not be directly related to Maria's travails, but they are twin figures in representing different alternatives to stereotypes of Mexican gender identity, and the pairing of their stories reinforces an impression of affinity with some of Kelly Reichardt's low-key dramatic portraits; notably Certain Women.
Dos Estaciones is richly nuanced from the performance point of view, with Sánchez giving away only so much but suggesting a great deal. Sánchez made a considerable mark with her support role in Lila Avilés's 2018 The Chambermaid, as a hotel worker cannily hacking the system, and here she's terrific as a woman who incarnates authority and control but who is also protecting herself against the emotional dangers of the world. Maria is seen striding through her factory and her lands, implacably purposeful, but in her duet scenes with Fuentes, who gives a relaxed but fine-tuned performance, the occasional faint flickers of carefully contained humour on Maria's face tell a different story. These glimmers of revelation became more sustained and telling as telling as the film develops – culminating in a remarkable extended close-up, quietly devastating in what it shows of the stresses that Maria has endured.
Very much inspired by Gonzalez's connection with his native region – where his parents were themselves tequila ranchers – the film is also an imposing landscape study, with Gonzalez and DoP Gerardo Guerra punctuating the action with images of the terrain, and its skies, that are painterly and highly composed, yet absolutely eschew romantic expressionism. Clean and controlled throughout, Guerra's camerawork has a keen documentary dimension, whether showing the harvesting of agave hearts or exploring the clean, somewhat clinical chambers of Maria's factory.An ambient score by experimental voice artist Carmina Escobar blends edgily with the industrial sounds of the plant.
And while the film doesn't devote much time to matters of tequila connoisseurship, it's clear that Gonzalez is very much flying a flag for the devoted expertise of artisanal distillers, against the high-profile brands singled out in the film's press notes, fronted by US celebrities like Kendall Jenner and Mark Wahlberg.
Production companies: Sin Sitio Cine, In Vivo Films
Sales: Luxbox info@luxboxfilms.com
Producers: Jamie Goncalves, Ilana Coleman, Bruna Haddad, Makena Buchanan
Screenplay: Juan Pablo González, Ana Isabel Fernández, Ilana Coleman
Production design: Marianne Cebrián
Cinematography: Gerardo Guerra
Editing: Lívia Serpa, Juan Pablo González
Music: Carmina Escobar
Main cast: Teresa Sánchez, Rafaela Fuentes, Tatín Vera, Manuel García Rulfo