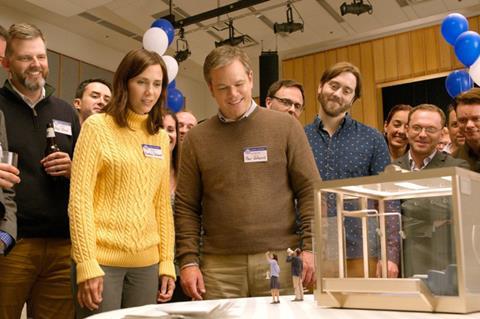 Dir: Alexander Payne. USA. 2017. 135mins
Films about tiny little people in a big world - The Borrowers, the 'Honey I Shrunk…' franchise – gain much of their dramatic traction by focusing on how not to get eaten by cats and other survival skills. Alexander Payne's follow-up to Nebraska (2013) offers a different take on mini-men. What if human shrinkage were promoted for environmental reasons, to reduce our impact on a polluted planet with dwindling natural resources? And what if flawed humans, faced with a global economic downturn, immediately latched on to the process for another more selfish motive - because in a downsized world, you can live like a king for a fraction of what it would cost in the big country?
Payne's gentle comic vein doesn't let up, but it's less surgically satirical in the second half
That's the premise behind a sentimental comedy that begins as a tasty satire about the commercialisation and gradual degradation of a noble ideal, then retools, after a mid-term lull, into what Alexander Payne has always done best - a story about a directionless non-hero who finds himself, with some romance thrown in to ease his journey. The two parts don't quite mesh tonally, especially towards the end of a two and a quarter hour film that sails towards sentiment on a tide of swelling chords while trying to act jaded and cynical about our messed-up planet, and messed-up heads. But it all just about works, largely thanks to Matt Damon's solid, reliable, anchoring central performance and some nice sidelight roles - though one of these, featuring Kristen Wiig, is over far too soon.
Originally conceived in the gap years between Sideways (2004) and The Descendants (2011), Downsizing was envisioned with Paul Giamatti and Reese Witherspoon in the lead roles; that could have been a very different trip. Damon plays Paul Safranek, a downtrodden guy who could have been a surgeon but scaled down his ambitions to look after a self-pitying invalid mother back in Omaha. He works as an occupational therapist in an Omaha Steaks food processing plant, dealing with bad posture and backache. All stolid, inarticulate male heart and instinct, he's married to Audrey (Wiig), a perky, me-centred thing who likes to push the family's limited budget to the max. It's this that makes the new procedure of 'downsizing' so attractive to the couple and so many like them.
Presented in a ten-minute pre-title sequence, the process was invented in a Norwegian lab by Dr Jorgen Asbjornsen, a scientist ably played by the Swedish TV Wallander, Rolf Lassgard. So committed was he to the cause of shrinkage as a solution to impending environmental catastrophe that Asbjornsen had himself shrunk, becoming the spiritual father of the first 'small' community, a Scandi idyll among the fjords, which looms large (as it were) in the film's final section.
Ten years on from the conference in which a 13-centimetre tall Asbjornsen reveals his new compact form, and that of 36 volunteers, to the gobsmacked delegates, downsizing has become a marketable quantity, with gated, domed and netted communities springing up around the world to protect the tiny inhabitants and allow them to enjoy their new-found wealth (with so little consumption, incomes go around a hundred times further - though the film's math would probably not stand up to serious economic scrutiny once wages and service costs are factored in). One such place is Leisureland, a gloriously fake slice of gated Americana where little people live seemingly happy, golfcart lives in huge, soulless mansions they could only dream of affording back home in large land.
Paul and Audrey's road to Leisureland is played as pitch-perfect skewer of a frustrated middle America in which aspirational dreams are repackaged in smaller boxes because people can't afford the big ones anymore. From the Leisureland sales lady's smooth money patter, through the enjoyably low-tech surgical shrinking procedure, to the minute that the couple's now-huge wedding rings are delivered in a memento box that has become a truck trailer, it's exhilarating stuff, carried by some good Damon/Wiig chemistry. But a setback removes Audrey from the picture - literally - and Downsizing stalls before crunching gears and shifting to a whole new register.
Payne's gentle comic vein doesn't let up, but it's less surgically satirical in the second half, where two new characters are introduced. The first is the now divorced Paul's upstairs neighbour, a Serbian black marketeer played with leering expansiveness by the ever watchable Cristoph Waltz. The other is Paul's new love interest, Vietnamese activist Ngoc Lan (Hong Chau), who entered the US illegally in a TV box (a neat dig at homeland security concerns) and now works as a cleaner and ministering angel in the shanty town that Paul is amazed to find beyond a hole in the security wall of his Truman-Show parody of leisure-class America. Udo Kier also puts in a time-serving appearance as Dusan's nautical smuggling accomplice Joris.
Special effects don't feature as prominently as one might expect, partly because there is very little big-small human interaction, and most of that comes in the form of gentle size gags: we see small people stacked in special shelved sections of aircraft and buses, enjoying first-class legroom for a fraction of the price; meanwhile, back in Leisureland, a new outlet called 'Full-size Flower Mart' stokes a craze for big-world blooms as living room centrepieces. But Payne and his regular co-scripter Jim Taylor are more interested in emotional journeys than cross-country ones, and it's with the introduction of Chau's character, and the world of the dispossessed she represents, that the film downsizes from sharp, brittle satire to mushy romantic fable.
Though inventively conceived, the container-land shanty town where Ngoc dispenses medicine and food culled from wealthy homes to the sick and needy feels like another version of fake, this one about poor-but-happy people who look out for each other. By the time we reach the 'original' small-person community in Norway, Downsizing is busy having its sustainably tiny cake and eating it, gently sending up this midnight-sun neo-hippy community while wanting at the same time to celebrate the environmentally sensitive values it represents – and it's a juggle not helped by the rather script-bound nature of the Paul-Ngoc romance, and a swelling orchestral soundtrack. There's something for everyone in Downsizing - just not a full meal.
Production companies: Paramount Pictures Presents in association with HuaHua Media an Ad Hominem/Gran Via Production
International Sales: Paramount Pictures
Producers: Mark Johnson, Alexander Payne, Jim Taylor
Executive producers: Megan Ellison, Jim Burke, Diana Pokorny
Screenplay: Alexander Payne, Jim Taylor
Cinematography: Phedon Papamichael
Production design: Stefania Cella
Editor: Kevin Tent
Music: Rolfe Kent
Main cast: Matt Damon, Kristen Wiig, Hong Chau, Christoph Waltz, Neil Patrick Harris, Rolf Lassgard, Jason Sudeikis, Laura Dern