Kim Ki-duk wrote and produced this sensitive second feature from Korea's Ju Lee-Hyoung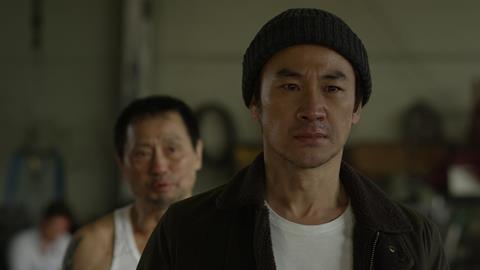 Dir: Ju Lee-Hyoung. South Korea. 2017. 93 mins
A man who drives a mechanical digger for a living sets out to unearth the secrets of the past. It's certainly not the most subtle piece of symbolism, but this accomplished second feature, which is produced by and based on a screenplay by Kim Ki-duk, is helmed with a light touch and a keen eye for understated details. This study of collective guilt and responsibility might be anchored to a specific period in Korean history, but its themes – the question of accountability for actions taken under military orders – could resonate much further afield.
The film is anchored by the dignity and empathy of Um Tae-Woong's central performance
The involvement of Kim Ki-duk in this project is Excavator's main, but by no means only, selling point. This sobering look at the human cost of combat – both to the families of the dead, and to the men who pulled the trigger – is handsomely photographed and thought-provoking. It is a picture which should find an audience within the festival circuit, while the Kim Ki-duk name recognition could go some way towards attracting further interest.
Kim Gang-il (Um Tae-Woong) operates an excavator now. But twenty years before, he was a soldier in the South Korean army. His squadron was involved in the suppression of a student rebellion in the early 1980s in which many protesters were killed. Subsequently, political winds have changed. The protesters are considered to be part of a nascent pro-democracy movement; the soldiers who fired on them condemned as murderers.
Gang-il's journey is prompted when he uncovers some human remains while digging one day. A brief flashback gives us a glimpse into the traumatic memories which haunt him. He sets out to reconnect with his former comrades at arms. Without a car, Gang-il uses the only means of transport available – his digger. It's a faintly absurd image – a stony-faced man trundling along provincial highways in a fading lime green piece of heavy machinery. But this is no Straight Story-style tale of folksy human interest. And director Ju Lee-Hyoung is most certainly not playing it for laughs.
The film is anchored by the dignity and empathy of Um Tae-Woong's central performance. He is quietly compelling as a man consumed by the question of just who it was that gave the order which killed the victims and also ruined the lives of those who fired the shots. Although the structure – a series of encounters – is inevitably slightly episodic, this slowly fracturing central performance is strong enough to hold the story together.
As Gang-il travels from man to man, some of whom are coping, some barely holding it together, a rage builds within him. But while the explosive later scenes might be more impactful, it's in the subtle details that the heart of the film is found: the glance he shares with a friend who explodes with fury over a misstep, and the tacit acknowledgement that they share that all is not well. Music is economically used – most effective is a bout of joyless karaoke and, perhaps even more desolate, the silence that follows when Gang-il turns it off.
Production company: Kim Ki-duk Film
International Sales: Finecut
Producers: Kim Dong-hoo
Screenplay: Kim Ki-duk
Cinematographer: Choi Seong-chel
Editor: Choi Hee-young
Music: Son Yeol-Mae
Starring: Um Tae-Woong, Kim Kyung-ik, Shim Jung-wan