A bull who refuses to fight attempts to find his place in the world in this colourful family animation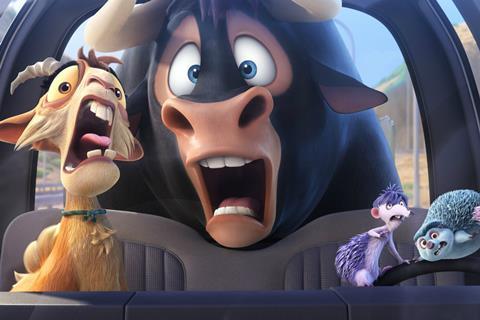 Dir: Carlos Saldanha. USA. 2017. 96mins
Unlike the hulking central character in this tale of a sensitive bull who conscientiously objects to the bullring, this sweet-natured animation is a wisp of a thing. That's not to say it doesn't pack plenty of charm into the appealing character of puppyish Ferdinand; 2000 pounds of prime beef who is more interested in botany than in goring matadors. Comic set pieces are also engagingly anarchic. But when writers find it necessary to beef up a screenplay with that tiredest of factory-farmed animated trope, the comedy dance off, one wonders whether a more organic approach to script husbandry might have been preferable.
The bull in the china shop sequence is a particularly precarious delight
The holiday period release window and the presence of WWE fight star John Cena in the voice cast – he plays Ferdinand with a boisterous enthusiasm and energy – should ensure that this film does decent business. Despite its quadruped focus, however, it remains to be seen whether the film has the legs to follow fellow Carlos Saldanha Blue Sky Studios projects Ice Age and Rio, and transition into a lucrative franchise.
Adapted from the 1936 children's book The Adventures of Ferdinand, by Munro Leaf and Robert Lawson, the film introduces us to Ferdinand as a calf on the Casa del Toro; a ranch dedicated to to raising premium fighting bulls to be defeated on the sword of matadors like El Primero (Miguel Angel Silvestre). But despite the fact that his father is one of the most imposing beasts in the paddock, Ferdinand is more into flower power than combat. "Can I be a champion of not fighting?" he asks his dad.
Dad assures him that he will grow into his destiny along with his muscles. But when his father is selected to fight a matador and meets the fate of every other beast in the ring, Ferdinand flees the ranch and, fortuitously, finds himself adopted by a little girl and her doting father who run a flower farm together.
Fast forward a few years, and Ferdinand has grown into a mighty beast. And while a gentle horticulturist's heart still beats in his massively muscled chest, to the casual onlooker he is a monster. For this reason, he is banned from attending the village flower festival. He does anyway, of course, and some of the film's most enjoyable set pieces result. The bull in the china shop sequence is a particularly precarious delight – as it should be, since the whole idea is an open goal for slapstick and pratfalls.
Ferdinand finds himself captured and sent back to Casa Del Toro, where his childhood tormentor Valiente (Bobby Cannavale) and his buddies have been joined by several other beasts, notably hirsute Highland bull Angus (David Tennant). To provide comic relief and to facilitate the obligatory dance competition, three prancing Lippizaner horses live, noses permanently aloft, in the neighbouring field.
Neither the horses nor his bovine companions believe that Ferdinand can be who he wants to be and evade his destiny in the bull ring. His main supporter is his calming goat and self-appointed trainer Lupe (Kate McKinnon). To its credit, while the film stops short of showing actual bull slaughter, it doesn't tiptoe around the facts of the sport and the peril faced by Ferdinand might be a little too real for some of the very youngest audience members.
The technical credits are solid. The score works best when it embraces the romance of flamenco guitar, rather than when it resorts to bland pop. The art direction delivers a lush and verdant spin on Spain which is considerably greener than the genuine article. It's pleasing enough, although fans of the elegantly distinctive original artwork from the book might regret that it is not referenced more here.
Production company: Blue Sky Studios, Davis Entertainment, Twentieth Century Fox Animation
Distribution: Twentieth Century Fox
Producers: Bruce Anderson, John Davis, Lori Forte, Lisa Marie Stetler
Executive producer: Chris Wedge
Screenplay: Robert L Baird, Tim Federle, Brad Copeland, Ron Burch, David Kidd, Don Rhymer
Cinematographer: Renato Falcão
Editor: Harry Hitner
Art Direction: Thomas Cardone
Music: John Powell
Voice cast: John Cena, Kate McKinnon, Bobby Cannavale, David Tennant, Gina Rodriguez, Daniela Bobadilla, Sally Phillips