A deftly-handled thriller from Germany about two sisters and one damaged mind benefits from a gung-ho attitude to gore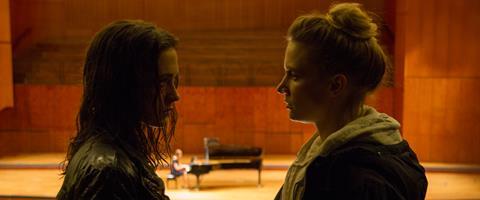 Dir: Oliver Kienle. Germany. 2017. 93 mins
This fiercely propulsive thriller toys with layers of reality which are viewed through the prism of one seriously damaged mind. That mind belongs to Sophie (Frida-Lovisa Hamann), a gifted pianist and the survivor both of a devastating childhood trauma and a recent accident which claimed the life of her sister, Jessica (Friederike Becht). Smart writing and an unflinching relish when it comes to the scenes of violence make for a deftly handled genre piece.
Frida-Lovisa Hamann combines a limpid-eyed fragility with something more complex and dangerous – she's an arresting presence in a visually striking picture
The film arrives at Tallinn Black Nights Film Festival having debuted at Munch, and it should be in for a successful festival run, particularly in genre strands and midnight slots. Competently made and driven by a nervy energy, it could connect with a similar audience to the one which embraced Sebastian Schipper's Victoria, although VOD platforms might be the best fit for a film which will likely appeal to a slightly younger demographic.
A blistering opening sequence sets the dramatic bar high. Two little girls, 6 year-old Sophie and her 8 year-old sister, are playing a piano duet when a pair of intruders burst into the well-appointed family home. The girls just have enough time to hide under a couch, from where they can clearly see their mother being stabbed to death. Jessica covers her sister's eyes, protecting the younger child from the memories which will go on to scar her own psyche. She whispers an oath to keep her safe always.
Twenty years later and Sophie has an audition for a prestigious piano scholarship. Jessica, meanwhile, is tipped off her already precarious balance by the news that the two killers have both been released from prison. A confrontation between the two sisters is sharpened by punchy sound design – a slamming car door sounds like the crack of a gunshot. After a freak accident, only Sophie survives. She initially feels a sense of relief that, at last, she can live her life released from her sister's over-protective paranoia. But she is not free of Jessica.
Sophie's older sister returns through what seems to be a multiple personality disorder. It's a device that evokes the twisting trickery of Alexandre Aja's High Tension, if not the extremes of violence. This makes Sophie's tentative forays into dating, with handsome doctor Martin, a bit of a minefield. After each of a series of memory black outs, Sophie must piece together the havoc she has wrought while acting as 'Jessica'.
Both actresses impress. Becht tackles the physical demands of her role with gusto: Jessica is a vengeful hurricane who cuts a bloody swathe through anyone who opposes her. A scene in which she scares off her sister's suitor by ramming a spoon down his throat is almost too horrible to watch. And Hamann combines a limpid-eyed fragility with something more complex and dangerous – she's an arresting presence in a visually striking picture.
Locations are well-chosen, particularly the imposing family home which is incongruously sited cheek by jowl to a massive factory complex. The rumble of heavy industry bleeds into the sound design like an unspoken threat.
Production company: Erfttal Film und Fernsehproduktion
International Sales: ARRI Media GmbH jpahl@arri.de
Producers: Klaus Dohle, Markus Reinecke
Screenplay: Oliver Kienle
Cinematography: Yoshi Heimrath
Editor: Philipp Thomas
Music: Heiko Maile
Main cast: Frida-Lovisa Hamann, Friederike Becht, Christoph Letkowski, Agnieszka Guzikowska, Detlef Bothe