Shen Teng and Jackson Yee are tasked with solving a murder in Zhang Yimou's rousing period actioner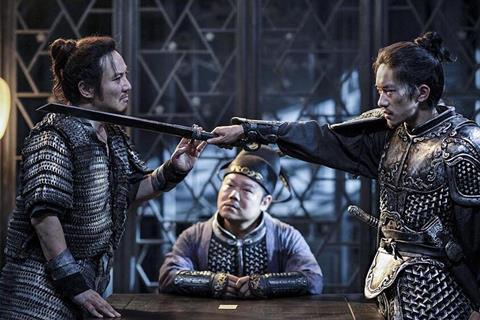 Dir: Zhang Yimou. China. 2023. 159mins
The game is afoot in Zhang Yimou's historical mystery Full River Red, which takes place within a military outpost during the Southern Song Dynasty (1127-1279). Inspired by a famous poem believed to be written by the patriotic general Yue Fei, it finds Zhang delving back into China's ancient past after excursions into twentieth century wartime scenarios with Cliff Walkers (2021) and Snipers (2022). There's a recurrence of tropes that have peppered the director's paeans to wuxia from Hero (2002) to Shadow (2018), and staple themes of loyalty, injustice and systemic corruption are rarely far from the surface. Yet Full River Red trades kinetic combat for clever wordplay, with Zhang and co-screenwriter Chen Yu ricocheting between contained suspense and dark comedy before segueing into a rousing call for virtue.
One of Zhang's less opulent period recreations with layered character interplay prioritised over ornamental décor
This is Zhang's second consecutive Lunar New Year release following Snipers, which grossed $87 million during 2022's atypically subdued holiday frame. Demand for large-scale local films after the Zero Covid induced dry spell should see Full River Red handily surpass that Korean war thriller, helped by the appeal of his high-profile headliners – superstar comedian Shen Teng and singer-actor Jackson Yee (a member of Chinese band TFBOYS). It grossed $60m on its opening three-day weekend, which is a clear sign of riches to come. Internationally, Full River Red's in-vogue whodunnit angle could be played up, as this is a twist-filled potboiler where almost everyone literally gets their knives out. A-list festivals are always interested in the Fifth Generation auteur.
The set-up involves Song dynasty chancellor Qin Hui (Lei Jiayin) leading a host of imperial troops to a remote compound for talks with the rival Jin Dynasty. But on the eve of the meeting, the Jin envoy is found murdered and the letter that he was carrying for the chancellor has vanished. This prompts a race to apprehend the culprit and retrieve the document in the hours before dawn. Having demonstrated a modicum of aptitude for the task, lowly soldier Zhang Da (Shen) is partnered with steely deputy commander Sun Jun (Yee), and the interrogations commence.
Their investigation is hindered by an uneasy dynamic – the two appointed sleuths are actually related, with the ambitious Sun Jun contemptuous of how Zhang Da has apparently squandered his life. Nonetheless, they establish a lead in beautiful dancer Zither (Wang Jiayi), who entertained the Jin envoy on the night of the murder. They also realise that the crime may be part of a wider conspiracy.
It gets knotty very quickly with the screenplay playfully acknowledging how tricky it is to keep up with developments, particularly as seemingly significant characters are dispatched almost as quickly as they have been introduced. The brisk first half pivots on the strained relationship between Zhang Da and Sun Jun, whose clashing methods of investigation often cause matters to escalate — with one such instance culminating in a hostage situation complete with a demand for a getaway horse. In this respect, the film takes its cue from Shen's broadly comedic everyman persona, although his trademark mugging is tempered an emerging sense of purpose which signals the more serious tone of the later stages. Likewise, threats of violence are initially played for gallows laughs, but culminate in an extended torture scene involving waterboarding.
If the film's claustrophobic location recalls Zhang's earlier worls, this is one of his less opulent period recreations with layered character interplay prioritised over ornamental décor. To this end, Lu Wei's relatively sparse production design provides a suitable stage for a series of tentative alliances and double-crosses which are bathed in a distinctive black-blue colour scheme.
Reprising the day-for-night technique used in A Simple Noodle Story (2009), cinematographer Zhao Xiaoding creates a genuine air of suspicion in the first half, contrasted with the saturated earthy yellow of latter scenes when most of the secrets are out of the bag. Meanwhile, the fluid camerawork ensures a degree of spatial dynamics so that the audience doesn't get entirely lost in the shadowy labyrinth of the outpost.
Embracing the film's tonal shifts, Han Hong's music veers from anachronistically revved-up renditions of folk songs to suitably stirring arrangements. In an eclectic mix, the only off-note is sounded by percussion which can be infuriatingly on the nose in its punctuating of humour. There are some longueurs over the course of the lengthy running time, but smooth editing by Li Yongyi just about negotiates the shift from the near-real-time first half to a more classical second which brings Zhang's signature concerns to the fore.
Its blend of styles and sensibilities may be occasionally confounding, but Full River Red is certainly never less than entertaining in its richly inventive mining of history.
Production companies: Huanxi Media Group, Tianjin Maoyan Weying Media, Yixie
Sales contact: Huanxi Media Group info@huanxi.com
Producer: Peng Lewei
Screenplay: Zhang Yimou, Chen Yu
Cinematography: Zhao Xiaoding
Production design: Editing: Lu Wei
Editing: Li Yongyi
Music: Han Hong
Main cast: Shen Teng, Jackson Yee, Zhang Yi, Lei Jiayin, Wang Jiayi, Yue Yunpeng