Cosmo Jarvis takes the lead in this Brooklyn-set outsider romance from director Tim Sutton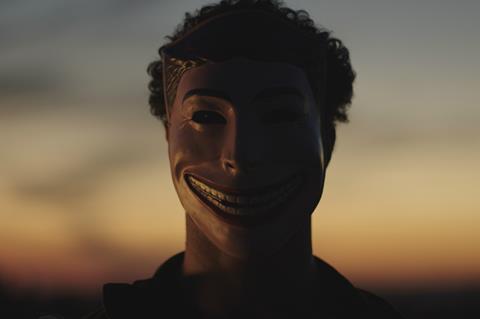 Dir. Tim Sutton. US. 2020. 95 mins
Alienated, disenfranchised and bit deranged, Saul (Cosmo Jarvis) is troubled by the news that his grandparent's Brooklyn home is due to be destroyed to make way for yet more luxury real estate. He believes that someone needs to stand up to the rapacious developers. And that someone is him. But a chance encounter with fellow rebel Zama (Dela Meskienyar) offers a connection and perhaps even a kind of salvation. It certainly affords the opportunity for a lot of photogenic but aimless driving around. Tim Sutton's idiosyncratic outsider romance contains moments of haunting oddness, but has a tendency to stab home its points and issues rather emphatically.
There is an urban fairytale quality to this story
The disjointed storytelling of this, the fifth feature from Brooklyn-based filmmaker Tim Sutton (Donnybrook, Dark Night), might be representative of the central character's jittery, distracted mental state, but it doesn't always make for a satisfying viewing experience. The always intriguing Jarvis is a selling point, perhaps for festival audiences, but whether his name would be enough of a draw anywhere else is less certain. The fact that this is not a picture which is easily pigeonholed might also prove to be a stumbling block. Its unpredictable, enigmatic air does make the film interesting, however,
There is an urban fairytale quality to this story, with its outlaw orphan protagonists pitted against a big, bad property mogul with a wolfish snarl (Jonny Lee Miller pushes the performance to the brink of pantomime and beyond). The character of the developer – schematic, dissatisfied, his face a sneering mask – is one of the film's weaker elements. A scene in which he scowls at three high-class sex workers writhing at his feet is particularly jarring, not because it's crass (although it is) but rather because it's such a cliched signifier of male evil in a film which is otherwise bracingly unconventional.
More interestingly textured are the characters of Zama – rebelling against the aunt and uncle who gave her a home, she wears a Niqab veil, but stays out all night to dance – and Saul. Given to hiding behind a grinning mask and casting himself as a kind of super-anti-hero, Saul is damaged by something which is never fully disclosed. Jarvis channels so much febrile intensity into the performance, he is practically vibrating at times. He believes – with so much sinewy fervour that its uncomfortable to watch – that he, through his support for the New York Knicks basketball team, is somehow crucial for the continued survival of the city.
Zama recoils from his ferocity, only to be drawn in again by his angular, awkward kindnesses. She reveals that her father recently died. Wordless, he bounds from the car that has been their makeshift home for several days, lopes through the traffic into a convenience store and returns with a gift: a packet of pistachio nuts.
The erratic, jumpy storytelling and Saul's surging impulses are reflected by an atmospheric score by Phil Mossman which pulses and twitches. Also notable is Lucas Gath's cinematography, which makes effective use of the contrast between old school urban grit and glassy, sanitised progress.
Production company: Yellow Bear Films, Rathaus Films
International Sales: Film Constellation sales@filmsconstellation.com
Producers: Andrew Morrison, Alexandra Byer, Madeleine Askwith
Screenplay: Tim Sutton
Editing: Kate Abernathy
Cinematography: Lucas Gath
Production Design: Alan Lampert
Music: Phil Mossman
Main cast: Cosmo Jarvis, Dela Meskienyar, Jonny Lee Miller, Victor Garber, Jeremy Bobb, Rhea Pearlman, Dan Hedaya