An accomplished cinematic re-working of the hit British supernatural stage play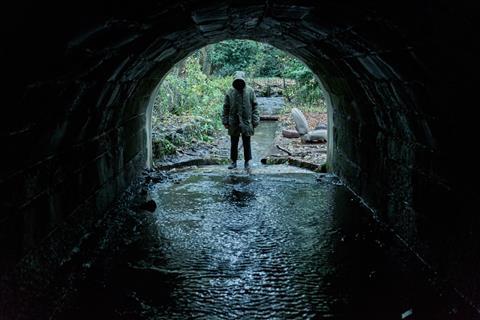 Dirs/scr: Jeremy Dyson, Andy Nyman. UK. 2017. 98mins
In adapting their Olivier-nominated supernatural stage play for the screen, writing/directing duo Jeremy Dyson and Andy Nyman have lost none of the impact of their darkly effective vision. That's no mean feat but by keeping things simple and playing to its strengths, Ghost Stories remains an exhilarating and entertaining experience.
The filmmakers have created moments of subtle, creeping menace
After its London Film Festival premiere, Ghost Stories moves on to Busan, where international audiences should respond to its straightforward setup and visceral scares even if the decidedly British humour is a little lost in translation. Lionsgate will release in the UK.
Reprising his role from the play, Nyman is Professor Philip Goodman, a man who makes his living debunking the paranormal. In a neat framing device, he visits childhood hero Charles Cameron (Leonard Byrne). Nearing the end of his life, Cameron has morphed from a supernatural sceptic into an absolute believer. He tasks Goodman with investigating the three hitherto unexplained cases that changed his mind, which we witness in flashback.
In the first, nightwatchman Tony (Paul Whitehouse) is terrorised one night by failing electricity, heavy footsteps and children's voices reverberating around the deserted factory in which he worked.
Next, troubled teen Simon (Alex Lawther) invites Goodman into his bedroom, locking the door carefully behind them with multiple bolts, to recount the time he hit a demon with his car on an isolated woodland road. Finally, city trader Mike (Martin Freeman) takes Goodman on a stride through the moors, explaining the supernatural occurrences that plagued his home on the night his wife suffered complications with her pregnancy.
As with all good horror films the devil is in the detail and, while the stage play made the most of its close proximity to the audience, here Nyman and Dyson avoid an over-reliance on jump scares, instead creating a richly textured visual landscape.
Helped by production designer Grant Montgomery and cinematographer Ole Bratt Birkeland, whose camera prowls deserted corridors, peers round corners and — in an Evil Dead homage — races across a forest floor, the filmmakers have created moments of subtle, creeping menace. At one point, Simon's parents stand motionless, facing the wall. Elsewhere, an empty pub takes on the claustrophobic air of a tomb. Recurring motifs link the stories like a trail of breadcrumbs, leading an observant viewer deftly towards the satisfying conclusion, while evocative sound design ratchets up the tension in the everyday.
Yet a great deal of the film's atmospheric power lies in its performances. All the actors bring a sense of pathos to their characters, each burdened by their own weighty personal traumas. The echoes of an unhappy, oppressive childhood reverberate through Goodman's blind faith in rationality and increasingly desperate search for explanation. Trevor wears his psychological scars in his browbeaten expression and flippant hostility. Simon is panicked, teary, never still; a young man teetering on the edge of his sanity. Along with Nyman, Freeman has more to play with, and is perhaps the most affecting.
The fact that Ghost Stories is populated entirely by male characters is no accident or cliche, rather a part of its dramatic design. Underneath the entertaining horror, this is ultimately a story of the toxic trappings of masculinity; a world in which keeping a stiff upper lip and resolutely burying your demons can summon the most terrifying of consequences.
Production companies: Warp Films, Altitude Film Entertainment, Catalyst Global Media, Lionsgate
International sales: Altitude Film Sales, info@altitudefilment.com
Producers: Robin Gutch, Claire Jones
Executive producers: Peter Balm, Will Clarke, Hugo Heppell, Andy Mayson, Mike Runagall, Barry Ryan, Niall Shamma, Charlotte Walls
Cinematography: Ole Bratt Birkeland
Production design: Grant Montgomery
Editor: Billy Sneddon
Music: Haim Frank Ilfman
Main cast: Andy Nyman, Paul Whitehouse, Alex Lawther, Martin Freeman, Leonard Byrne