A deep dive into the poet/troubador's most famous song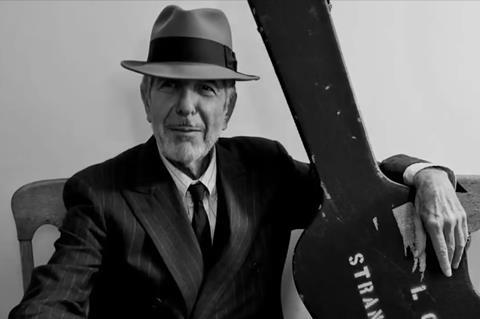 Dirs. Daniel Geller, Dayna Goldfine. US. 2021.118 mins
The career and legacy of gravelly poet troubadour Leonard Cohen is explored through a deep dive into his most famous song, the much covered 'Hallelujah'. It's an approach which shares common ground with the long running podcast 'Song Exploder', in which musicians dissect a composition and reveal the process of their creation. However, in the absence of new interviews with Cohen – the singer died in 2016 at the age of 82 – the film relies on the insights of colleagues, friends and family, all of whom are fully paid-up members of the church of Leonard. This is filmmaking which echoes Cohen's music style – it's contemplative, searching and stripped back, but it can also be somewhat navel gazing, ponderous and very slow.
There' s a slightly on-message quality to the interview insights
Lacking the personal insights and colour of Nick Broomfield's Marianne & Leonard: Words Of Love, this is very much an examination of the singer's philosophy and his laborious process. As such, it can be rather reverential, dry and by-the-numbers in its approach to the music documentary genre – something of a disappointment from Daniel Geller and Dayna Goldfine, the team behind The Galapagos Affair: Satan Came To Eden. Although it is likely to appeal predominantly to existing fans, further bookings in music-themed film events and festivals are a possibility, as is a streaming platform release.
Divided into chapters which take their titles from Cohen's song lyrics, the film first gives an overview of Cohen's background (he came from a monied, Montreal, Jewish family) and his unusual route into music – he was already over 30 and a published poet when he started hawking himself to record companies. The film employs a combination of archive interviews with Cohen and contemporary conversations with those in his orbit – including music journalist Larry Ratso Sloman, who describes himself as "patient zero" for the infectious appeal of 'Hallelujah'; singer Judy Collins, who gave Cohen his first opportunity to perform his songs in front of a live audience, and John Lissauer, who produced and arranged many of Cohen's songs, including the original version of 'Hallelujah'.
There' s a slightly on-message quality to the interview insights, a repeated emphasis on the fact that Cohen was a "spiritual seeker" on a path to enlightenment. What's missing from the film are detracting voices (Cohen is a man who perhaps needed to be called on his waffle a little more frequently), humour and a fuller analysis and acknowledgement of how the song's popularity has affected its cultural standing.
The core of the film, which looks at the seven-year writing process of 'Hallelujah', and its lyrical evolution from religious allegory to an earthier, more personal quest (the song encapsulates "holiness and horniness" of Leonard Cohen), is genuinely interesting.
But even those who love 'Hallelujah' might find the decision to explore pretty much every version ever performed, from the good – John Cale, Jeff Buckley – to the less successful – Brandi Carlile's yodelled version, Rufus Wainwright's antiseptic precision – to the out and out abominations – foghorn wedding singers, talent show honkers, Bono – rather kills any desire to hear it again, ever.
Production company: Geller/Goldfine Productions
International sales: Dogwoof sales@dogwoof.com
Producer: Daniel Geller, Dayna Goldfine
Cinematography: Daniel Geller
Editor: Dayna Goldfine, Bill Weber, Daniel Geller
Music: John Lissauer