Ben Wheatley goes back to his roots for this family reunion set in a country house over New Year's Eve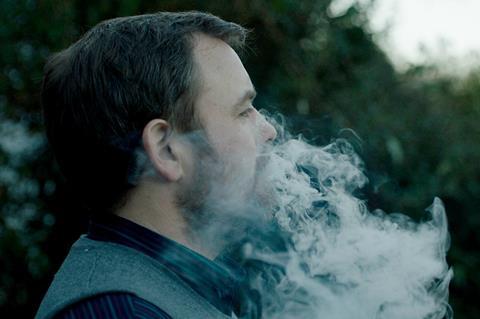 Dir. Ben Wheatley. UK. 2018. 95 mins.
On his last two features, British left-fielder Ben Wheatley has tried his hand at cult literary avant-gardism (J.G. Ballard adaptation High Rise) and at reheated genre boisterousness (semi-spoofy bullet ballet Free Fire) with no shortage of audacity, but to decidedly mixed effect. He's on surer – and, to a degree, safer – ground with ensemble piece Happy New Year, Colin Burstead, a semi-improvised comedy about a nightmarish family get-together that somewhat recaptures the spirit of his striking low-budget debut Down Terrace and (albeit without the violence or freakiness) his follow-up Kill List.
Vigorous and engaging as dark character comedy
The casting is impeccable, with Kill List's Neil Maskell presiding over a company including Charles Dance, Joe Cole, Alexandra Maria Lara and many less familiar names, all on prime form. Whether this energetic return-to-roots film entirely pays off is another question: Happy New Year… is vigorous and engaging as dark character comedy, but as drama it never quite builds or coheres convincingly. After UK theatrical screenings in November, it will play on BBC2 over the holiday season, where viewers might find that it holds a discomforting mirror to their own family tensions. As it is, this bustling, rough-edged exercise has a distinct workshop feel to it, and a certain lack of novelty - as if Secrets & Lies had been run through the stylistics of Festen, without convincingly raising the ante on either.
The film starts in the home of stressed-out, short-fused alpha male Colin (Maskell) as he, wife Val (Sura Dohnke) and taciturn teenage daughter Fran (Nicole Nettlingham), plus infant son Jamie, prepare to leave for the retreat that Colin has booked for their clan – a New Year's stay in the seaside country seat of Lord Cumberland (Richard Glover), a nervous aristo running an ostensibly de luxe home-away-from-home business. Assorted friends and family members duly check in, all grumbling about the long drive – among them, Colin's cash-strapped parents Gordon (Bill Paterson) and Sandy (Doon Mackichan), his sister Gini (Hayley Squires), cross-dressing Uncle Bertie (a grandly ripe Charles Dance) and Sandy's brother Jimmy (Peter Ferdinando), bristling with personal and political rage.
Unknown to everyone, however, Gini has invited her and Colin's long-estranged brother David (Sam Riley), over whom a black cloud hangs – and not necessarily done it with reconciliation in mind. With everyone here having issues of their own – including bumptious family friend and semi-gatecrasher Sham (a buffoonish but poignant Asim Chaudhury) – or having unfinished emotional and financial business with each other, it's a sure thing that sparks will fly before the first verse of 'Auld Lang Syne'.
Scripted by Wheatley with input from the cast members – it's not clear how much is actually improvised, but the acting has a brisk, loose freshness – the scenario neatly pinpoints the love-hate ambivalence between members of a tight clan, with people talking about the importance of family one second, and the next contemptuously dismissing their nearest and maybe dearest as "these people". Secrets emerge little by little, although the revelations aren't nearly as startling as we might expect. The real releases of tension come from the outbursts of which Maskell, as a man eternally primed to steam heat, is a past master. However, the film leaves the viewer so busy puzzling out who all these people are, and how they're related to each other, that the dramatic and comedic grist can feel slow in coming.
Another problem is Wheatley's own editing style, which tends to chop scenes up into brisk, intercut staccato bursts, not always giving individual moments time to breathe dramatically. This, together with the frenetic hand-held style of regular Wheatley DoP Laurie Rose – and indeed, the country house setting – makes for distinct, perhaps deliberate overtones of Festen, which means that this never quite feels entirely its own film.
As a display of terrific acting, however, Happy New Year… comes up trumps. The cast excels whether it's at full tilt, like Squires's harassed Gini and a very funny, often discomforting Maskell, or holding back, like Riley as the insouciantly calm prodigal and Lara, wryly detached as a newcomer to the family. Mackichan is particularly good as high-maintenance Sandy, who starts a crisis literally the second she enters the house; Ferdinando makes a nicely tense focus for the theme of class tension and resentment; while Richard Glover contributes a lovely turn as the crowd's fusspot, ever-so-apologetically English host.
In a characteristic Wheatley touch, Clint Mansell contributes a nicely creepy score that uses mediaeval-sounding folk elements to create a sense of the very reverse of English seasonal conviviality. It won't spoil things to reveal that, in the end, conviviality wins out, after a fashion – with the cast hitting the dance floor for the end credits, when Wheatley and crew members join in for a touch of last-minute fourth-wall demolition.
Production companies: BBC Films, Rook Films
International sales: Goalpost Film, tristan@goalpostfilm.com
Producer: Andy Starke
Screenplay: Ben Wheatley, the cast
Cinematography: Laurie Rose
Editor: Ben Wheatley
Production design: Alexandra Slade
Music: Clint Mansell
Main cast: Neil Maskell, Sura Dohnke, Doon Mackichan, Bill Paterson, Hayley Squires, Sam Riley