A gay Brazilian webcam performer struggles to make any real-world connections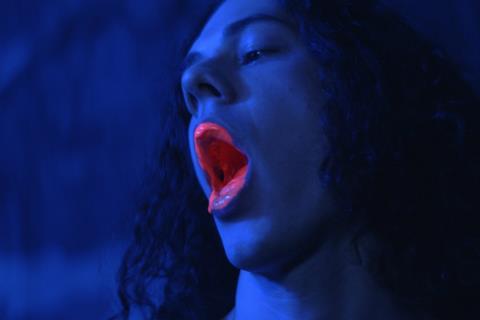 Dir. Marcio Reolon, Filipe Matzembacher. Brazil. 2018. 118mins
Infused with a sense of yearning and melancholy as vivid as the body paints daubed on the bodies of the boys who dance for money, Hard Paint represents a complex character study and a distinctive voice in queer cinema. The second feature from writer/director partnership Marcio Reolon and Filipe Matzembacher follows a teenager in the southern Brazilian city of Porto Alegre who makes a living performing for strangers but struggles to make any real-world connections.
Glauco Firpo's fluid cinematography captures the quasi-fairytale quality of a boy who lives on the outside of his life

Hard Paint arrives at London's Flare festival having already won Berlin Film Festival's Teddy prize and the Premio Maguey for Best Film at Guadalajara. Further festival interest seems likely, particularly, but not exclusively, in LGBTQ-themed events. Although atmospheric and visually arresting, film's languid pace and a running time which is not quite sustained by the material could be the main barriers to wider distribution.
Pedro (Shico Menegat) dances in front of his webcam, anointing himself with paints which glow under the black light he has set up in his bedroom. For reasons which become clear, Pedro feels more comfortable with the protective barriers of the paint and the camera; his encounters in the real world are blundering and unpolished. But when his sister, the only certainty in his life, abruptly decides to move, Pedro must adjust to life on his own in a community which judges him, both for being different and for the one time he fought back against his bullies, severely injuring one of them.
With its chapter structure – the film is divided into three sections – and simmering threat of violence, Hard Paint could draw comparisons with Moonlight. Tonally, the film is washed in shades of blue. One senses that Pedro's sadness runs far deeper than the malaise that comes from being targeted for his sexuality. His mother died, he doesn't know his father and now sister Luiza (Guega Peixoto) is leaving just as he has a court case pending for his assault. The attack, on a fellow student, cost him his place in college. But even though Pedro is clearly accustomed to losing what he cares about, it doesn't ever get any easier.
It's hard to reconcile Pedro's hypnotically sensual performance as 'Neon Boy', a favourite of numerous online viewers, with the gauche lad with the coat hanger shoulders who ducks behind his hair to avoid making eye-contact with strangers on the street. The paint is a defence and a camouflage. But then he meets Leo (Bruno Fernandes), a rival performer who has also uses body paint in his webcam show.
Pedro is initially cagey, but Leo's openness and generosity – he gifts reclusive Pedro an entire social scene and support system – breaks down the teenager's wariness. A relationship develops, but like many people in Porto Alegre (the home city of the directors and the setting for all their films) Leo is planning on moving on, hoping for a dance bursary which will take him abroad.
Both Menegat and Fernandez are compelling, together they have a natural intimacy which is the result of an extended rehearsal period. Sex scenes – both in front of the webcam, and in private – are infused with a heady, almost dreamlike quality. For Pedro at least, their moments together represent an escape from a life which has descended into a kind of waking nightmare.
Glauco Firpo's fluid cinematography captures the quasi-fairytale quality of a boy who lives on the outside of his life, looking in. For Pedro, who was already uncomfortable in his own skin, the alienation of a life lived online, combined with the homophobia in in his home town, has resulted in what one character describes 'purgatory'.
Production companies: Avante Filmes, Besouro Films
International sales: M-Appeal sales@m-appeal.com
Producers: Filipe Matzembacher, Jessica Luz, Marcio Reolon
Screenplay: Marcio Reolon, Filipe Matzembacher
Production design: Manuela Falcao
Editing: Germano de Oliveira
Cinematography: Glauco Firpo
Music: Felipe Puperi, Rita Zart, Tiago Abrahao
Cast: Shico Menegat, Bruno Fernandes, Guega Peixoto, Sandra Dani, Frederico Vasques, Denis Gosh, Camila Falcão, Áurea Baptista, Larissa Sanguine, Zé Adão Barbosa