A New Wave police proceduaral from Romania's Cătălin Mitulescu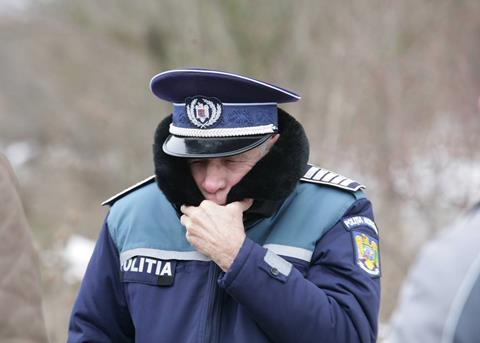 Dir. Cătălin Mitulescu. Romania. 2019. 96 mins
A sinewy police procedural which unravels its story with the same dogged efficiency as its veteran cop protagonist, Heidi upends audience expectations with a disorientating swerve two thirds of the way through. It's a bold storytelling decision from Romanian writer and director Cătălin Mitulescu, and one which leaves us questioning everything that we thought we knew about the main character and what he may or may not have done. That these are questions which Mitulescu chooses to leave unanswered is not a problem, however there are nonetheless issues with the third act which test the credibility of the picture.
An unvarnished, naturalistic approach
Mitulescu, who co-wrote the Berlin Silver Bear-winning If I Want To Whistle, I Whistle, and directed The Way I Spent The End Of The World and Loverboy, ticks all the Romanian New Wave boxes with the unvarnished naturalistic approach of this filmmaking. And, despite a third act which does its best to derail the audience, the picture is compelling throughout, not least because of the craggily impassive Gheorghe Visu in the central role of Police Officer Visoiu. Further festival interest seems likely. But the uneasy last half hour, and the sense that there are a few crucial bricks missing from the story structure, might present an obstacle to Heidi's journey beyond the festival circuit.
With retirement on the horizon, Officer Visoiu has ambitions of spending his time ice fishing in the wilderness, as far away from the blighted outskirts of Bucharest that he has patrolled for most of his working life. But like it or not, he is as much a part of the landscape of the area as the hollow concrete tower blocks and the skeletal winter trees. Before he can sign off for a few days of leave, his professional expertise, attuned instincts and extensive list of contacts are needed. A pair of sex workers who are due to testify in an organised crime case have gone missing. It's up to Visoiu to trawl through the truck stops, motels and trailers to track them down. Sodden with snow-melt and disappointment, the film's locations are well-chosen and captured with evocatively grainy, grubby cinematography.
He sets about the task with a cool, methodical head. Visoiu is not a man who is easily flustered. In one terrific night scene, he is surrounded by snapping, jostling thugs who square up to take him out. Calmly, almost wearily, he defuses the situation with well-chosen words rather than weapons.
He soon tracks down one of the missing women. But there's something about the unpredictable Heidi (her nickname earned because she comes from the mountain region) which disarms him. She's a tricky creature: smart enough to spin every situation to her benefit, but vulnerable enough to jeopardise herself with self-destructive behaviour. The hardened pro policeman lowers his guard and lets himself get far closer to Heidi (Catalina Mihai) than is appropriate. It's a turning point for a character who had hitherto commanded our admiration. The pleasure derived from simply watching someone doing their job incredibly well is subsequently tainted. It also places Visoiu in the frame of suspicion later when Heidi is found murdered, although it's unclear what prompts his colleagues, who we assume know nothing of his emotional connection to the girl, to make such an apparently unlikely logical leap.
The most crucial thing about a film like this is that we can trust the storytelling even if we can't trust the characters. Unfortunately, by the film's close, our reserves of faith are pretty much depleted.
Production company/sales contact: Strada Films, ruxandra@stradafilm.ro
Producer: Cătălin Mitulescu
Screenplay: Cătălin Mitulescu, Radu Aldulescu
Cinematography: Marius Panduru
Editor: Ion Ioachim Stroe
Production design: Mihaela Poenaru
Main cast: Gheorghe Visu, Catalina Mihai, Octav Costin, Gabriel Zaharia, Bogdan Dumitrache, Cristian Bota, Ciprian Necula, Florin Zamfirescu, Ada Condeescu, Ana-Maria Ivan