Dir: David Mackenzie. US. 2016. 102mins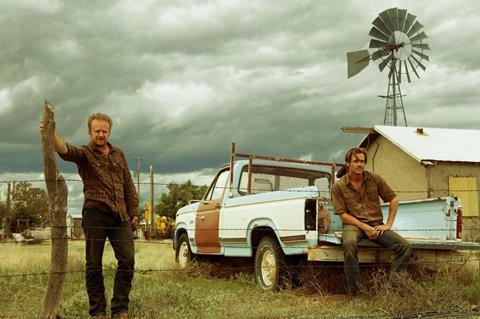 Nine films into his all-over-the-map 14-year movie career, David Mackenzie delivers what is certainly his most commercially appealing entry so far, and one of his most fully achieved. Building momentum from acclaimed 2013 UK prison drama Starred Up, Hell or High Water is also is his most genre-inflected effort, working from an expertly honed screenplay by Sicario scribe Taylor Sheridan. Throw in a tangy cast toplined by Jeff Bridges, Chris Pine and Ben Foster, and the British director looks all set to finally make good on his long-simmering, by turns warming and cooling commercial promise.
The film's ace card is its intertwining of not one but two mismatched buddy relationships
Pine and Foster play west Texan siblings Toby and Tanner Howard. Elder brother Tanner (Foster) is an unrepentant hell raiser who has somehow managed to stay out of jail for a year. Law-abiding Toby (Pine) is estranged from his wife and two teen sons, embarrassed to visit them since he's way behind on his child support. But Toby's biggest problem is that the bank is foreclosing on a mortgage raised against the family ranch, until recently principally occupied by his mother who is now deceased. He must raise cash quickly, or lose all.
That's already getting ahead of ourselves. The film plunges us in just as the pair are committing their first bank robbery where, with smart restraint, they take only low-value bills and no bundles. They plan in rapid succession to hit all the smaller branches of the Texas Midland Bank – which happens to be the predatory lender closing in on the family property.
From the "Closing Down" and "Debt Relief" signs that pepper the sun-bleached landscape, to the film's steady-gazed depiction of hard-scrabble communities, Hell or High Water announces its intention to elevate its themes beyond the rigid confines of the crime genre. But all that's just bonus texture. The film's ace card is its intertwining of not one but two mismatched buddy relationships.
As entertaining as the bank-robbing brothers often are, they are eclipsed by the men on their tail: near-retirement Texan Ranger Marcus Hamilton (Bridges) and his half-Comanche, half-Mexican partner Alberto (Twilight franchise's Gil Birmingham). Whether ribbing Alberto for his Catholic faith, Native American ancestors or presumed preference for effete soccer over good ol' American Football, Bridges tosses off the Sheridan-scripted zingers, enriching with a dry Texan twang. Dialogue frequently brings the Coen brothers to mind, and ditto the vivid support casting – bank tellers, waitresses, casino employees, and the like. Best of all is veteran actress Margaret Bowman as the eccentrically spiky diner waitress ("That wasn't no question") who proves more than a match for Marcus.
A nicely crafted story plays out satisfyingly and reasonably credibly although, on this evidence, Oklahoma sate may need to investigate the anti-money-laundering protocols of its casinos.
Tech credits are all strong, extracting ample value from locations that include the town used for Bridges' 1971 breakthrough The Last Picture Show. Score from Nick Cave and Warren Ellis – initially plaintive, progressively more throbbing – is a predictably strong element, juxtaposed with evocative country cuts from the likes of Townes Van Zandt and Billy Joe Shaver.
Production companies: Sidney Kimmel Entertainment, Oddlot Entertainment, LBI Entertainment, Film 44
International sales: Sierra/Affinity, joey@sierra-affinity.com
Producers: Peter Berg, Sidney Kimmel, Julie Yorn, Carla Hacken
Screenplay: Taylor Sheridan
Cinematography: Giles Nuttgens
Editor: Jake Roberts
Production design: Tom Duffield
Music: Nick Cave, Warren Ellis
Main cast: Jeff Bridges, Chris Pine, Ben Foster, Gil Birmingham, Marin Ireland, Katy Mixon, Margaret Bowman, Gregory Cruz, Dale Dickey