Kosovo-set winner of Sundance's World Dramatic section looks set to be a firm audience favourite as well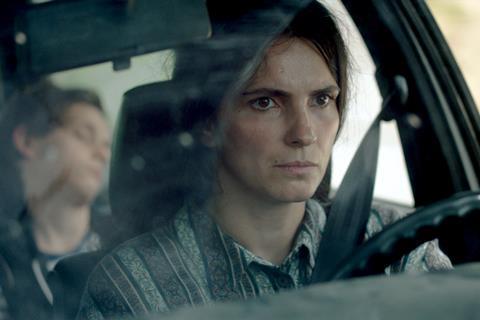 Dir/scr: Blerta Basholli. Switzerland/Republic of Macedonia/Albania/Kosovo. 2020. 84 mins
Blerta Basholli's calmly composed handling of an emotionally-charged true story makes for an outstanding debut feature in Hive. The legacy of grief and loss running through the recent history of Kosovo underpins a moving tribute to stoical resilience and female empowerment. Critical regard should be matched by audience admiration, a potential underlined by multiple wins at Sundance which included the World Cinema Grand Jury Prize and the Audience Award in that section.
A spare, focused storytelling that creates room to breathe.
Hive has a relatively short running time but it is a testimony to Basholli's skill that she is able to convey the rich struggles of individual lives and fix them in a surrounding community that both nurtures and diminishes them. There is a spare, focused storytelling here that creates room to breathe.
In March 1999, the Kosova village of Krusha e Madhe was the site of a massacre that left 240 dead or missing. Seven years later, the villagers live with the heavy uncertainty of not knowing the fate of their loved ones. In the absence of her husband, Fahrije (Yllka Gashi) has become everything to her father-in-law Haxhi (Cun Lajci) and her two children. She is home-maker, comforter, plumber and provider, earning some money from selling jars of honey in the market.
A central thread in the film is how you move on from this limbo of uncertainty. Contemplating the future seems an insult to the dead and those who cling to the faint hope that their loved ones may yet return. Basholli subtly conveys Fahrije's understanding that the years are passing and her children are growing up. Zana (Kaona Sylejmani) is having her first period and Edon (Mal Noah Safqui) is no longer comfortable that his mother might see him in the shower.
The biggest problem with moving on is a deeply entrenched patriarchal order that regards an independent woman as inherently immoral. Fahrije hopes to start a small business selling the roasted red pepper relish ajvar to city supermarkets. The thought that local women might join her in some form of cooperative or even have the temerity to seek a driving license is met with fierce opposition. The hostility comes not just from the older men of the village but from other women who feel she should know her place.
Fahrije's steely determination is beautifully conveyed by Yllka Gashi. There is a stern-faced dignity in her bearing and the sense of someone continually having to swallow her pride, absorb injustices and not respond to insults. The traditions and expectations of Krusha act like a straitjacket. It is almost a point of honour that she never unleashes her anger or sheds tears. When she finally does break down it is all the more touching. The small, tentative steps of other women as they defy convention and village gossip to join Fahrije contributes to the film's growing emotional punch.
The excellent Gashi is surrounded by a well cast ensemble with Cun Lajci creating a sympathetic figure of Haxhi and Kumrije Hoxha contributing a warm, scene-stealing turn as Nazmije, a supportive older woman dispensing wisdom and wry humour.
Cinematographer Alex Bloom captures the beauty and character of the village with its narrow streets, clear, starry skies and local river that was the scene of the massacre. A plaintive score from Julien Painot adds to the understated, naturalistic tone of a film that successfully immerses the viewer in an expertly told and moving tale. The impact is further enhanced by closing moments that feature footage of the real Fahrije.
Production company: Alba Sky Films, Alva Film Productions, Black Cat Productions
International sales: Level K debra@levelk.dk
Producers: Yll Uka, Valon Bajgora, Agon Uka
Editing: Felix Sandri, Enis Saraci
Cinematography: Alex Bloom
Prod des: Vlatko Chachorovski
Music: Julien Painot
Main cast: Yllka Gashi, Cun Lajci, Kumrije Hoxha, Aurita Agushi