A Georgian man attempts to lure back his wife by living in isolation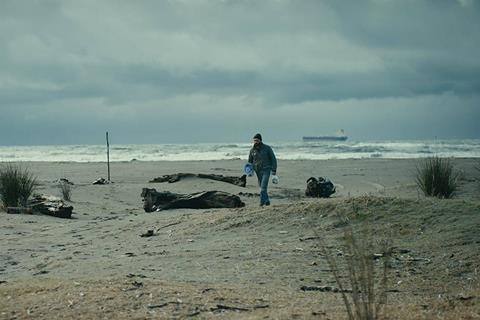 Dir: Tinatin Kajrishvili. Georgia-Sweden. 2018. 105mins
Unable to accept that his marriage is over, Giorgi (George Bochorishvili) cuts ties with his city life in Tbilisi and holes up in a leaky hunting shack on the shore of Paliastomi Lake, near the Black Sea . But even in almost total isolation, reminders of his former life cut through his self-imposed solitude. The second feature from Tinatin Kajrishvili, following the Berlin Panorama audience award-winner Brides (2014), this is atmospheric filmmaking but is dramatically inert: at least until an unexpected story turn at the very end brings an alternative perspective and an knotty, unresolved question.
Irakli Akhalkatsi's cinematography makes effective use of a place which seems to be on the sharp end of the changing seasons
The film plays in the Sarajevo Film Festival main competition, following in the steps of another female-directed feature which offers up a critique on Georgian masculinity: Ana Urushadze's Scary Mother, which came home with the top prize last year. While this picture may not have the biting feminist agenda which no doubt contributed to Scary Mother's win, it will certainly enhance Kajrishvili's reputation on the festival circuit. It may, however, be a little too oblique to gain much theatrical traction.
Giorgi's steadfast denial that his marriage to Ana (Ia Sukhitashvili) has hit the rocks borders on the pathological. We see in the watchful eyes of his two sons that his behaviour has started to scare them a little. Ana is determined to maintain civility in the relationship between them, but Giorgi latches onto her sympathy as hope for reconciliation. His voluntary exile to the back of beyond is, it becomes clear, at least partly motivated by the belief that his former wife will see the error of her ways and summon him back from the brink.
The time on the island – a frostbitten tongue of land which mostly consists of swamp and desperation – is cut together with flashback glimpses of the cosmopolitan life Giorgi left behind. These unbidden memories are sharpened by the jarring ring of his mobile phone, inevitably at moments when he seems to be opening up to his present circumstances.
The swamp location is striking; Irakli Akhalkatsi's cinematography makes effective use of a place which seems to be on the sharp end of the changing seasons. It also has a symbolic resonance – where better to wallow in self-pity than a piece of land which is almost entirely mud?
But Giorgi finds a kinship with the outsiders who call the lake their home. Hunter Jano (Jano Izoria), who has been tasked by Giorgi's city friend with his care, tries to jolly him with duck shooting and fishing. But it's when he reveals that he, too, was deserted by a wife, that Giorgi is drawn to him. Elderly bachelor Valiko (Ioseb Gogichaishvili) and widow Larisa (Nana Datunashvili) have made a life together; a mysterious younger woman lives with them. It's a life of simple pleasures and mutual support and, for a while at least seems to drawn Giorgi out of himself. But he can't let go of the hope of a reunion with his wife, and, in this instance, it's the hope that kills you.
The film is restrained in its storytelling: there is little music, just a plaintive whine of strings at moments of tension. And there are several arresting scenes, most notably a nighttime fire on a reed bed. But while the still waters of the story certainly run deep, they are also exhaustingly slow.
Production company: Gemini, Artizm, Momento Film
International sales: Gemini
Producers: Tinatin Kajrishvili, Lasha Khalvashi, David Herdies
Screenplay: Tinatin Kajrishvili, David Chubinishvili
Editing: Irakli Akhalkatsi
Cinematography: Irakli Akhalkatsi
Production design: Giorgi Gordzamashvili
Music: George Khalvashi
Main cast: George Bochorishvili, Ia Sukhitashvili, Jano Izoria, Soso Gogichaishvili, Lika Okroshidze, Nana Datunashvili, Sergo Buigishvili, George Beridze, Beka Samdbegishvili, Luka Akhvlediani