Locarno opens with a debut starring Riccardo Scamarcio and Alba Rohrwacher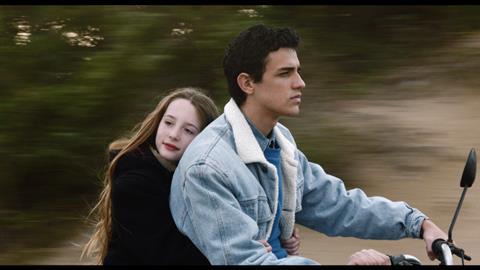 Dir. Ginevra Elkann. Italy-France. 2018. 100 mins.
Family agonies play out in elegantly sketched, if hardly unfamiliar fashion, in If Only, the debut feature by Italian writer-director Ginevra Elkann, better known as a producer and distributor (respectively, at Italian companies Asmara Films and Good Films). This year's opening film at Locarno, If Only is essentially a coming-of-age story bolstered by prestigious adult presences, notably Riccardo Scamarcio and Alba Rohrwacher, alongside French stawart Céline Sallette.
This tender, highly personal-seeming work never transcends the conventions of approachable Italian art cinema, but works engagingly in its own terms
The film's main appeal lies in a trio of terrific, adroitly directed performances from young newcomers, notably Oro de Commarque as eight year-old Alma, whose fresh, candid turn contributes charm that sustains the film even when other aspects are a little conventional. Domestic, festival and online prospects are assured, wider theatrical distribution less so.
"If only" – 'magari' in Italian – is something of a mantra throughout, notably for Alma. She is the youngest child of Charlotte (Celine Sallette), a divorced French woman who has converted to Russian Orthodoxy, bringing her children into the faith – notably oldest son Sebastiano, or Seb, 14 (Milo Roussel), who takes religion very seriously. For their winter holiday, the children are packed off to Italy, where father Carlo (Scamarcio) proposes to take them skiing. But self-absorbed, irascible Carlo, a failing film-maker, takes them instead to a borrowed house on a windswept stretch of coast, where he hopes to salvage his latest script. While he spends his time with supposed co-writer - in reality, latest girlfriend - Benedetta (Rohrwacher), his progeny are left to their own devices.
Fortunately, they find distractions – notably with older local kids, one of whom triggers the thrill of first love in Alma. But playtime ends abruptly with not one, but two simultaneous crises, just as serious-minded Seb is undergoing a transgressive rite of passage elsewhere. As this might suggest, there's a certain structural awkwardness: built up persuasively in the first half, the film subsequently becomes a little unfocused. For example, Brett Gelman makes a sudden late appearance as an American friend of Carlo; he's an engaging addition (and considerably more likeable than when playing vile Martin in TV's Fleabag), but he is given little of significance to do.
While Scamarcio struggles slightly to bring shading to a stereotypically feckless character, Rohrwacher gets a better deal, her flouncily bohemian Benedetta registering imposingly from the start. As for the kids, acting in both Italian and French, Roussel is impresses as a strait-laced adolescent yet to emerge from his protective shell; Ettore Giustiniani (resembling Eddie Redmayne in miniature) is lively as middle child Jean, coping with assorted health issues; and de Commarque makes a vivid impression as a girl hoping to reshape the world to her fond dreams. But Alma's intermittent voice-off narration is too inconsistent to cohere, while occasional fantasy inserts of her dreamed-of weddings are an arch flourish.
The time frame is somewhat elusive, elements such as GameBoys and vintage TV programmes setting the film in a recent past that remains distractingly indeterminate. However, Elkann wisely declines to overburden the film with period wardrobe touches, while setting it in the past means that she can have the children busy themselves with amusements other than mobile phones. This tender, highly personal-seeming work never transcends the conventions of approachable Italian art cinema, but works engagingly in its own terms – not least because of Vladan Radovic's atmospheric, wintry photography of the coast at Saubadia in the Lazio province.
Production companies: Wildside, Iconoclast, Tribus P Films, Rai Cinema
International sales: Rai Com, cristina.cavaliere@rai.it
Producers: Lorenzo Mieli, Mario Gianani, Lorenzo Gangarossa
Screenplay: Chiara Barzini, Ginevra Elkann
Cinematography: Vladan Radovic
Editor: Desideria Rayner
Production design: Roberto De Angelis
Music: Riccardo Sinigalia
Main cast: Riccardo Scamarcio, Alba Rohrwacher, Milo Roussel, Ettore Giustiniani, Oro De Commarque, Céline Sallette