Dirs. Ricki Stern and Annie Sundberg, USA, 2009, 84 minutes.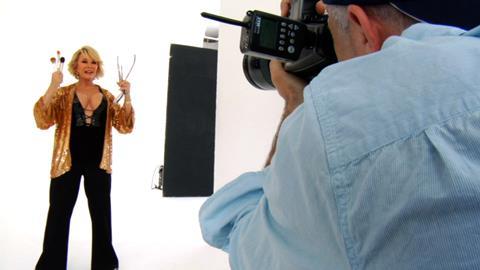 Joan Rivers: A Piece of Work begins with a shot of the comedienne without makeup. Rivers shows a lot of herself in this entertaining and outrageous portrait, including perhaps the foulest and often funniest mouth on any woman of 75.
This documentary by Ricki Stern and Annie Sundberg certainly justifies an arthouse theatrical release – it's more revealing about Rivers than the successful documentary The September Issue was about its subject, Anna Wintour. Its campy tone should win over the gay audience, and her raunchiness will attract the young. Ever the workaholic, Rivers will be there to promote it, although the natural home for this film is television throughout the English-speaking world.
A chronicle of Rivers's 75th year, A Piece Of Work shows the comedienne at work, which is all the time – whether it's in Las Vegas, at a Manhattan comedy club, at her sumptuous Fifth Avenue apartment, or shouting down a heckler at a casino in remote Wisconsin who objects to a joke about deaf people.
The filmmakers, who made The Devil Came on Horseback about Darfur in 2007, were given extensive access to Rivers, yet their work does not feel like an official tribute, thanks to the subject's irrepressible spontaneity about sex, money, men, and her own plastic surgery. Never politically correct, Rivers asks if she could call the chic Michelle Obama "Blackie O".
With archival tape and Rivers's own recollections, the filmmakers make the point, without too much sanctimony, that Rivers's rise in comedy, a men's unforgiving profession, was remarkable. Scenes of her in front of live audiences today show a comic who won't yield to the competition by retiring.
To sign up for Screen's weekly Reviews Newsletter with all the week's new releases, international openings and full festival reviews delivered free to your mailbox every Friday, please click HERE
Production companies
Break Thru Films
International Sales
Submarine
+ 1 212-625-1410
Producers
Ricki Stern
Seth Keal
Annie Sundberg
Screenwriter
Ricki Stern
Cinematographer
Charles Miller
Editor
Penelope Falk
Music
Paul Brill