Dir. Simon Rumley. USA, 2016. 95mins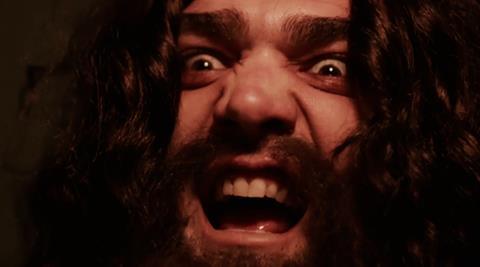 An unusual mixture of true crime and supernatural horror movie, Johnny Frank Garrett's Last Word is an impressively overwrought effort from British director Simon Rumley (The Living and the Dead, Red, White & Blue). Scripted by Ben Ketai, Mark Haimes and Tony Giglio - who credit Jesse Quackenbush's controversial documentary The Last Word as source - it quickly gets away from dry legal issues to go for full-blooded, if off-centre melodrama.
Unconventional scares and intense, unsettling creepiness will attract horror fans looking for more out-of-the-way material.
With a distinctive, sweaty, uncomfortable look - often getting very close to the expressive faces of people in mental agony - and a splendid, bombastic score by Simon Boswell, it works best as a scary movie. While it lacks the simplistic religious angle which propelled roughly similar items like The Exorcism of Emily Rose and The Last Exorcism to crossover box office success, its unconventional scares and intense, unsettling creepiness will attract horror fans looking for more out-of-the-way material.
In Amarillo, Texas, in 1982, juror Adam Redman (Mike Doyle) overcomes qualms about psychic evidence and a showboating prosecutor (Sean Patrick Flanery) to go along with his fellow jurors and convict abused teenager Johnny Frank Garrett (Devin Bonnee) of the rape and murder of an elderly nun. Ten years later, Garrett is executed by lethal injection, maintaining his innocence to the last and leaving a written curse on all responsible for this miscarriage of justice. Decent family man Adam is shaken as people involved in the trial - a witness, a fellow juror - die in mysterious circumstances, after being driven mad by dreams of the executed man.
Garrett's curse extends to the families of his tormentors, so when Adam's son Sam (Dodge Prince) falls ill, he comes to believe that the only way he can save the boy is to investigate the case and exonerate the executed man. As more freak accidents claim the lives of participants in the case, Adam becomes obsessed and takes his one-man crusade to a prison where a possible culprit (Arthur Richardson) is serving time for similar offences - warning the man 'when you piss off God, he doesn't go after your family… but Johnny Garrett does' - and the office of the unsympathetic DA, who still insists Garrett's death served the community.
Carried over from Rumley's Texas-set Red, White & Blue is an outsider's view of America, where jurors join in prayer to try to convince a hold-out to deliver a death penalty conviction, a self-serving psychic (Sue Rock, with a terrifying smile) is a major part of the case against the accused and every portion of meat is flyblown.
At bottom, this is the same hokey curse-on-all-my-enemies storyline that served for Boris Karloff (The Man They Could Not Hang) and Vincent Price (The Abominable Dr Phibes), and Garrett himself - his splenetic last words are read in full over the end credits - doesn't quite attain horror icon stature onscreen or as a malicious presence. More unsettling are imaginative moments where everyday incidents suddenly blow up into horror - a schoolteacher covering a blackboard with Garrett's curse in front of her frightened class, an insect squashed against a windscreen which becomes a sheet of blood, a motel telecast of Carnival of Souls inspiring a nightmare version of the trial and execution attended by cackling lunatics.
Doyle grounds the film by underplaying - in contrast with the rest of the cast, who go all out for Texan gothic grotesquerie. After doing the rounds of horror-themed festivals, this will probably find a most appreciative audience on DVD and via on-demand services where it will stand out amongst the genre pack because it looks and sounds so different.
Production Companies: A7 SLE Films, Boss Media
Sales: Altitude Film Sales info@altitudefilm.com
Producers: Rob De Franco, Peter Facinelli, Frank Mancuso Jr
Executive Producers: Adam Goldworm, Eric Gores, Simon Rumley
Screenwriters: Ben Ketai, Tony Giglio, Marc Haimes
Cinematography: Milton Kam
Editor: Robert Hall
Music: Simon Boswell
Production Designer: Chris Trujillo
Main cast Devin Bonnee, Mike Doyle, Erin Cummings, Sean Patrick Flanery, Allyn Carrell, Heather Tyler, Cassie Shea Watson, Dodge Prince