Dir/scr. Joe Piscatella. US, 2016, 78mins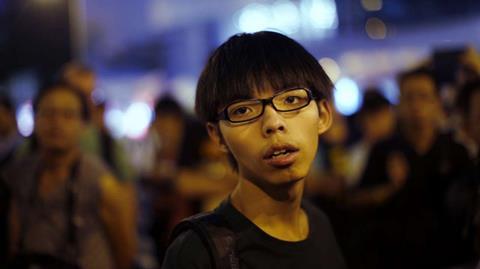 In an earlier age, Joshua Wong might have been the perfect Frank Capra hero. An idealistic, unassuming student activist, he is driven by a staunch belief that the power of the Hong Kong people will be sufficient to win the day in the David and Goliath struggle with Chinese rule. Joe Piscatella's absorbing documentary captures the triumphs and disappointments of the young dissident's life and has a particular resonance as we approach the twentieth anniversary of the British handover of Hong Kong to China.
Wong's indomitable spirit is what lends the film such an appeal.
There is a clarity and urgency to Piscatella's documentary that lends it the feel of a political thriller. He combines extensive television reports (BBC, Reuters, Al Jazeera etc) and interviews with Wong, his family and fellow activists to chart the journey of a passionate, eloquent young man who became a high profile advocate of civil disobedience in the wake of successive Chinese initiatives that violated the "one country, two systems" promises that were made to Hong Kong in 1997.
Wong seems symptomatic of a younger generation which feels the need to act before Hong Kong's independence is erased. In 2012, the 14 year-old Joshua formed the student organisation Scholarism in protest at the Chinese government's intended imposition of a National Education plan that would dictate what was taught in Hong Kong schools. Wong described it as "brainwashing" and started holding meetings, staging protests and attracting a following. As colleague Derek Lam notes: "If you want to defeat Darth Vader you have to train some Jedi."
There is a giddy sense of elation when Scholarism wins this particular battle and a compromise is reached that effectively leaves schools with the option of setting their own curriculum. It is a bracing illustration of people power, but a reality check follows as the Scholarism movement joins forces with Benny Tai's Occupy Central to fight for universal suffrage and democracy and find themselves facing a very different outcome.
Piscatella manages to capture the complexity of what has been happening in Hong Kong in recent years, and creates a film that is lively and easily accessible for a general audience. Wong's body-and-soul commitment to his cause can't help but inspire a little hero worship as he is arrested and goes on hunger strike in the pursuit of what he believes to be the right thing.
Piscatella also seems determined to emphasise the positive. The power of the Chinese government and the potential consequences for anyone who defies it makes the outcome seem bleak. The success in stopping the National Education programme is a rare triumph, yet even here we can witness Wong and his generation growing more savvy and sophisticated in their activism, forming a political party Demosisto, running for elections and seeking to make changes from within the political system rather than through mass protests on the street.
Wong's indomitable spirit is what lends the film such an appeal. There may well be a sense of preaching to the converted and creating a film that will work best on documentary channels and news outlets but Joshua: Teenager Vs. Superpower is engaging enough and informative enough to reach a wider audience.
Production company/international Sales: June Pictures cchidsey@junepictures.com
Producers: Andrew Duncan, Joe Piscatella, Matthew Torne, Mark Rinehart
Cinematography: Jonathan Young, Darryl Smith, Jeycob Carlson, Andy Schocken.
Editor: Matthew Sultan
Music: Bennett Barbakow Rob Amjarv