Renee Zellweger gives the performance of her career in this by-the-book biopic of Hollywood legend Judy Garland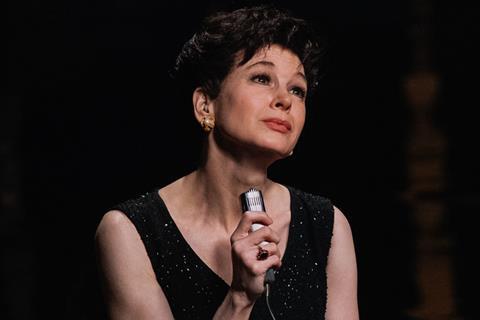 Dir. Rupert Goold. UK. 2019. 117 mins.
Judy Garland's last stage performances in London in 1969 are faithfully recreated in the – perhaps fittingly – one-woman show that is Rupert Goold's Judy. Renee Zellweger gives the performance of her career in a film which is certainly an awards-friendly biopic, but strikes a darker, more maudlin note than expected on very few high keys. Showbiz stories don't come much more tragic than that of Frances Gumm (Garland's real name), and Zellweger's astute performance drives that sadness home. Silhouetted on stage against the shadows of her broken childhood, the wrecked Judy tries to pay off her debts and reclaim her children from ex-husband Sidney Luft (Rufus Sewell) but she's fighting an army of personal demons that are clearly set to break her.
Zellweger's transformation is quite astonishing here
Commercially, Judy bears clear comparisons to recent Hollywood-themed awards favourites and actor showcases Film Stars Don't Die In Liverpool, or My Week With Marilyn. The complete focus on Garland/Zellweger comes as a somewhat imbalanced surprise, however. What might have been supporting turns – from Jessie Buckley, as Garland's personal assistant, or Michael Gambon as the impresario Bernard Delfont, for example – are under-written in the shadow of the star of theWizard Of Oz.
This, ultimately, is a star vehicle that Garland herself might have been familiar with, and the fact that its trailer "premiered" at London's Pride festival with Zellweger in attendance gives a clear indication of where its expected audience might lie. Recent successful musical-themed biopics (Rocket Man, Bohemian Rhapsody, Yesterday) don't seem to be an indication of potential performance, given Judy's predictably downbeat air.
This year marks the 50th anniversary of Garland's death and the 80th anniversary of the release of The Wizard of Oz, the film that turned her into a star, and her tragic story is certainly worth revisiting, with theatre director Goold setting her London gigs against the backdrop of her failed career, custody battles, drug abuse and chronic lack of money. Alcohol and pills have made her unreliable, her husband and former agent Sid Luft wants to keep her children Lorna and Joey off the stage, where Judy uses them much in the same way as Debbie Reynolds was prone to turning Carrie Fisher into her sidekick. Liza is only glimpsed briefly, at a Hollywood party where the broken-down Judy meets the man who was to become her fifth and final husband, Mickey Deans (Finn Wittrock).
Judy's travails on stage at London's Talk of The Town are mirrored by flashbacks to her unhappy childhood at MGM, fed uppers and downers and bullied into starvation as the result of a Faustian pact with Louis B. Mayer. Played by young Darci Shaw in these sequences, she is depicted as being too shy to even declare her real – and not studio-manufactured – attraction to Mickey Rooney.
As a visual experience, Judy is – again, perhaps fittingly – almost entirely stage-bound, from the soundstages at MGM to the black polished floor of the stage at Talk of The Town (aka the Hippodrome). Apart from Judy herself, two of the film's more fleshed-out characters are a gay couple (played by Andy Nyman and Daniel Cerqueira ), utterly devoted to the singer, whom she meets at the stage door after her shows. They're pretty broadly-sketched, but they do give an indication of how she was cherished by her fan base.
Most attention will be given to Zellwegger, Oscar-nominated for her Roxy Hart in 2002's Chicago, and a winner of Best Supporting Actress the following year for Cold Mountain. Her transformation is quite astonishing here, and the extended sequences at the Palladium – in particular the predictable 'Somewhere Over The Rainbow' pay-off – demonstrate her ability to recreate Garland's physicality and mannerisms. Vocally, the performance is an intriguing blend of Garland and Zellweger - the punch is in the delivery. Hair and make-up by Jeremy Woodward is certain to be admired.
Goold, artistic director of London's Almeida theatre, works with The Crown writer Tom Edge to deliver a film which never transcends, like Garland herself did. But it is always, unlike the notoriously frail and unpredictable singer/actress, solid, reliable, and competent.
Production company: Calamity Films
International sales: Pathe International
Producer: David Livingstone
Screenplay: Tom Edge, from the play 'End of the Rainbow' by David Quilter
Cinematography: Ole Bratt Birkeland
Production design: Kave Quinn
Editing: Melanie Ann Oliver
Music: Gabriel Yared
Main cast: Renee Zellweger, Jessie Buckley, Finn Wittrock, Rufus Sewell, Michael Gambon, Darci Shaw