Charlie Hunnam and Jack O'Connell headline this tense drama from Max Winkler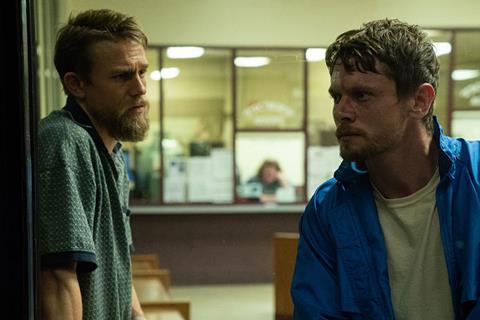 Dir. Max Winkler. USA. 2019. 90 mins
This portrait of a battle-scarred relationship between two brothers mines familiar territory, but does so with a scrappy, live-wire energy. There's an imbalance between talented amateur fighter Lion (Jack O'Connell) and Stan (Charlie Hunnam) the older brother whose big dreams and bigger personality dominates the fate of both. When the latest of Stan's bad decisions backfires, the brothers are given the job of transporting a young woman across country to an uncertain fate, in a grungy seat-of-the-pants road movie headed nowhere good. Strong performances across the board and a propulsive sense of mounting desperation makes for a compelling piece of storytelling.
Jessica Barden, playing Sky, the girl being transported back to an uncertain fate in Reno, is immediately eye-catching
The third feature from Max Winkler, who also co-wrote, this is competent, unshowy direction. The picture should enjoy further festival interest following on from its premiere in Toronto. And it could find a moderate audience theatrically, although the surface similarities with pictures that deal with fraternal relationships and boxing (Gavin O'Connor's Warrior and David O'Russell's The Fighter are recent examples) means that it might not be distinctive enough to break out commercially. Perhaps central to any marketing effort is the fact that rather than a boxing movie in which drama plays out in a ring, the most satisfying element here is the examination of the complex relationship between two damaged young men.
It's a relationship which is led by Stan. Hunnam plays the character as someone who is the compere of his own life. He talks a big game, even in the face of complete indifference. He pinballs around the garment factory where both he and Lion scratch out a subsistence living, predicting imminent glory at the fight that evening. Lion has heard these pepped up speeches before; he keeps his head bent over the tea towels he sews for a living. But it soon becomes clear that the bravado is a facade which covers an existence which is close to spinning out of control. Their home is a repossessed wreck which they have to enter through a smashed window. And Stan has debts to the kind of people who recoup in blood.
Hunnam's performance, like Stan's character, tends to be overbearing. It takes a while for O'Connell's subtle, physically expressive turn to make its mark. But Jessica Barden, playing Sky, the girl being transported back to an uncertain fate in Reno, is immediately eye-catching. Her appraising side-eye glances suggest that she has got the measure of Stan. She has met his kind, with their empty promises and grand do-or-die gestures, before. Without exchanging much more than glances, she and Lion instinctively side together, a taciturn united front against Stan's oxygen-sucking dominance. When, emboldened by Sky, Lion finally stands up to his brother, he half covers his mouth as he does so, unconsciously trying to catch the words before they land.
A score which is heavy on blue collar signifiers like slide guitar and Bruce Springsteen can seem a little on the nose at times. More effective is the choice of locations – mostly low-rent diners decorated in the colour palette of spilled coffee and flat cola. The one glimpse of the better life that Stan aspires to is a tacky, plastic version of luxury in a hotel suite that they can't afford and which will ultimately cost them dearly.
Production company: Romulus Entertainment, Scott Free Productions, Big Red Films
International Sales: Mister Smith jjones@mistersmithent.com
Producers: Brad Feinstein, Jules Daly, Kevin Walsh, Ryan Stowell
Screenplay: Theodore B. Bressman, David Branson Smith, Max Winkler
Production Design: Jeremy Reed
Editing: Tomas Vengris
Cinematography: Damián García
Music: Lorne Balfe
Main cast: Charlie Hunnam, Jack O'Connell, Jessica Barden, Jonathan Majors, John Cullum