Dir: Kim Sang-chan. South Korea. 2016. 106mins.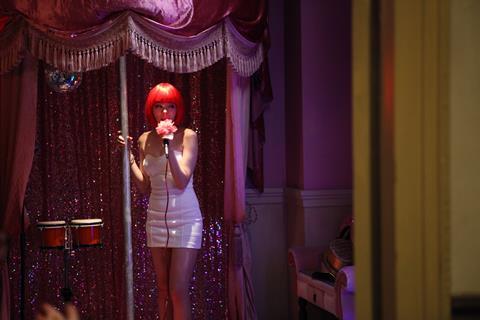 Karaoke bars are often depicted in Korean films as places where locals sing, drink and dance, but rarely is a film set predominantly inside one. Wacky and disturbing in places, Kaaroke Crazies doesn't play out at a conventional Korean karaoke bar, however: it's run by a man who listens to pornography to pass the time and then hires a mysterious gaming addict to help improve business. Add a serial killer into the mix, and that's just scratching the surface.
A colourful execution which is reminiscent of Park Chan-wook helps make this film compelling
The film's overt eccentricity is unlikely to strike a chord with a mass audience, but Karaoke Crazies should continue to generate interest among genre film festival programmers following a world premiere at SXSW in the 'Visions' section – and perhaps with the right push, could travel further.
Located in a small town, the Addiction Karaoke bar is struggling to stay afloat after a factory in the area closed down, making it difficult for owner Sung-wook (Lee Moon-sik) to make ends meet. As the bills pile up, he hires a young woman named Ha-suck (Bae So-eun) to help entice men in.
Wearing a green tracksuit, she isn't quite the 'helper' men were after. But when she realises that unless business improves, the internet will be cut off and she'll be unable to play games online, she takes things into her own hands, literally – and the customers come flying in.
It's not long before another 'helper' joins the crew in the form of extroverted Na-ju (Kim Na-mi) who is keen to add some life to the bar, although she's adamant this does not include oral sex. When a serial killer begins lurking around, however, things take a darker turn.
Each of the main characters in the narrative is dealing with their own personal struggle, but they find meaningful respite in each other as a makeshift family. Rather effectively and amusingly, some of film's context is delivered by an energetic policeman who pops into the bar now and again to tell Sung-wook that there is a serial killer on the lose. He's more of a peripheral player but an essential one as the narrative plays out.
A mix of interesting characters, scripted by Park Ji-hong, and a colourful execution by Kim Sang-chan and his production team which is reminiscent of Park Chan-wook's work, helps to make this film compelling, along with a genre mix of fantasy, drama and comedy with a thrilling conclusion.
Often playing supporting roles, Lee Moon-sik (Public Enemy) is an excellent lead as the melancholic Sung-wook, while Bae So-eun (Doctor) also comes across naturally.
Kim Sang-chan's previous credits include the commercial musical-comedy Highland Star (2007), which he co-directed with Kim Hyun-soo, while he has also worked on other films in various capacities such as the comedy Petty Romance. Karaoke Crazies is evidently a collaborative feature, but it's also the first film he's directed by himself.
Production Company: Aram Pictures Inc.
International sales: 9ers Entertainment, debpark@niners.co.kr
Producer: Hwang Phil-seon
Screenplay: Park Ji-hong
Cinematography: Jang U-young
Editor: Moon In-dae
Production designer: Jin Kyung-hee
Music: Lee Hyo-jeong
Main Cast: Lee Moon-sik, Bae So-eun, Kim Na-mi, Bang Jun-ho.