Lucy Cohen's doc, headed for Netflix, is an extraordinary and intimate look at one family coping in the face of loss and other challenges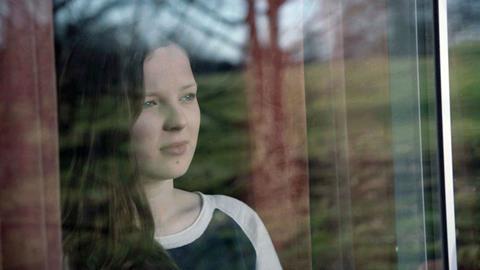 Dir: Lucy Cohen. UK. 2017. 109 mins
Documentary at its best is an organic, malleable form of filmmaking which can evolve to absorb new angles and directions. This is certainly the case with Lucy Cohen's impressive, deftly edited documentary feature debut. Kingdom Of Us started out as a film about autism. Of its subjects, mother Vikie Shanks is an advocate and campaigner working for a better understanding of autism and mental health; five of her seven children are on the autistic spectrum. But the film broadened out over the course of the three years that Cohen dedicated to the project to incorporate the terrible tragedy that rocked the family. In 2007, the children's father Paul committed suicide.
Birthday party footage reveals a man almost catatonic with depression, his children milling about him happily and plying him with cake
This extraordinary, intimate picture looks at the way that the members of the family process their grief, while also juggling the parlous financial situation that Paul left behind. The film premieres at the London Film Festival before being released on Netflix. Despite its VOD platform, the insight into and sensitive handling of mental health issues could mean further theatrical screenings in events dedicated to exploring this tricky territory.
Paul Shanks was a man of extremes. Enthusiasms and exuberant highs would be countered by periods of deep depression; towards the end of his life, the balance shifted towards the latter. But during the early years of his children's lives, he was a warm, present and loving father. We know this because he was also a compulsive documenter of day to day life. Cohen was given access to a vast cache of family videos. Paul is present in most of them, sometimes in front of the camera but most frequently behind it, talking to his six daughters and one son.
A musician whose career never quite took off, he would compose songs for each of his children. It's a talent which has been passed on. One scene shows daughters Kacie, Lorie, Mirie, Nikita and Pippa performing together in a talent show. Some of the film's most poignant moments come when the children and their mother rewatch the VHS tapes and listen to audio cassettes to piece together the fractured memories of their father.
There is no question that the children and their mother loved Paul and miss him. But, by increments, a darker side to this troubled man is revealed, not least the fact that he wrote in one of the obsessively detailed diary entries shortly before his death of his plan to kill his children and wife and then take his own life. And birthday party footage reveals a man almost catatonic with depression, his children milling about him happily and plying him with cake. Watching with the benefit of hindsight, a daughter asks how could they not have noticed just how sad their father was? "We did care, we just didn't know," says Osborn, the only son of the family.
All the children process their grief at a different rate. But for Pippa, the youngest, it proves to be the most difficult. She is troubled by the fact that she has no solid memories of her father of her own; her grief festers into an eating disorder and then a suicidal depression which requires hospitalisation.
There is humour here also, much of it coming from the amusingly blunt Osborn, a teenager with a gift for left-field logic and reasoning. His argument for not tidying his bedroom goes as follows: "One day I'm going to die and then it won't matter. So why should it matter now?" But Osborn also demonstrate a talent for articulating and unpicking the details of his condition, rejecting the idea that autistic people lack empathy. "We have so much empathy, we don't know what to do with it."
Production company: Pulse Films, Netflix
International sales: Pulse Films info@pulsefilms.co.uk
Producers: Julia Nottingham, Tessa Treadway
Editor: Michael Aaglund, Stephen Haren, Maya Maffioli
Featuring: Vikie Shanks, Jamie Shanks, Kacie Shanks, Lorie Shanks, Mirie Shanks, Nikita Shanks, Osborn Shanks, Pippa Shanks