An 'empathetic and authentic' drama set inside a Swiss residential care home for girls wins top prize at Generation 14+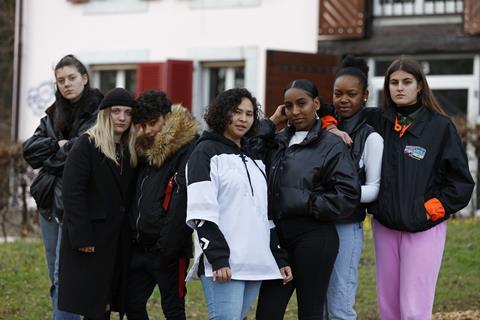 Dir-scr Fred Baillif. Switzerland. 2021. 112 mins
A residential home for at-risk teenagers in Geneva provides both a de facto family for the girls who live there, and an arena for a series of explosive conflicts in this empathetic and authentic drama. Developed over a period of two years by writer and director Fred Baillif, himself a former social worker, with the participation of a non-professional cast consisting of residents and staff of a children's home, La Mif brings a forthright, in-your-face candour to subject matter which might otherwise have seemed somewhat familiar.
A satisfying multi-perspective mosaic-style structure
In the grass-roots development process and the picture's volatile energy, there are parallels with films such as Laurent Cantet's The Class and Sarah Gavron's Rocks. But La Mif (the title is taken from French street slang for family) is very much it's own entity, benefitting immensely from Baillif's insider's eye view on the problems and shortcomings of the care system. Having taken the top prize in Berlin's Generation 14plus sidebar, the film will likely feature highly on the wish lists of festival programmers, particularly those of youth-themed events.
Baillif adopts a satisfying multi-perspective mosaic-style structure, which, Rashomon-style, replays key events several times, each successive repetition with the benefit of new and deeper insight into the participating characters. Lora (Claudia Grob), the home's manager and mother figure stands out, as does fiery Novinha (Kassia Da Costa) and the charismatic and extravagantly foul-mouthed Alison (Amélie Tonsi), although each of the girls gets a chapter which weaves her perspective into the story.
Sexual abuse figures prominently in the stories of these girls, and, by extension, those of their carers. In some cases it's almost cancerous, a malevolent core which eats away at the self worth of the victims. In others, it lurks unnoticed, like an unexploded bomb which threatens to tear lives apart when least expected. In almost all the cases, broken relationships with family leads to intense, if occasionally fractious, bonds between the girls in the home. Novinha's social worker has arranged for her to spend time with her mother. "Do you believe people can change?" she asks. Her mother brushes past her, beer in hand, leaving Novinha to sit alone to contemplate the realisation that some people just can't be bothered. Justine, estranged from her privileged background after a tragedy for which she was responsible, prefers the non-judgemental camaraderie of the care home rather than the spectre of guilt that waits for her back in her family. And the mother of new girl Précieuse causes a scene at the home, an event which will go on to be a flashpoint which ignites tensions among the staff of the institution.
Some slightly unwieldy music choices notwithstanding (Baillif uses classical excerpts from pieces by Bach and Mozart, among others), the film has a propulsive naturalism throughout. Particularly notable is the handheld camerawork, which is sensitive to the tensions and energies between the girls, and to the nuances of these impressive non-professional performances. Use of sound is also powerful – in a film which is frequently screamed at full volume, silences can be deafening.
Production Company: Freshprod
International Sales: Latido Films marta@latidofilms.com
Producer: Fred Baillif
Editing: Fred Baillif
Cinematography: Joseph Areddy
Main cast: Claudia Grob, Anaïs Uldry, Kassia Da Costa, Joyce Esther Ndayisenga, Charlie Areddy, Amélie Tonsi, Amandine Golay, Sara Tulu, Nadim Ahmed, Isabel De Abreu Cannavo