The female employees of a Sydney department store face new possibilities on the eve of the 1960s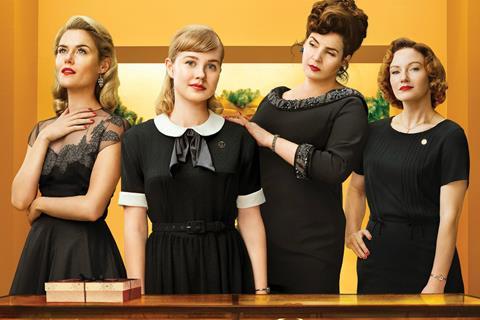 Dir/scr. Bruce Beresford. Australia. 2018. 109 mins
Despite the dark shade indicated in its title, a sunny patina is pivotal to Bruce Beresford's Ladies in Black; to its summertime setting, its golden-hued recreation of Sydney circa 1959, and its tale of identity, opportunity and tolerance. Based on Madeleine St John's 1993 novel The Women in Black — which was adapted into an award-winning Australian musical called Ladies in Black in 2015 — this is a hopeful, humorous and handsomely staged look at the lives of department store clerks facing personal and societal upheaval. While the narrative's dramas feel paper-thin, even as they touch upon timely themes of equality, multiculturalism and the treatment of refugees, the feature's optimism always shines.
Beresford gives the material the warm, light, heartfelt embrace that it demands
Bowing in Australia on September 20, that glossy, joyous glow should equate to a healthy box office on home turf, where audiences are familiar with both the source material and the successful stage version. The primarily local cast, including Angourie Rice, Rachael Taylor, Ryan Corr, Shane Jacobson and Noni Hazlehurst, should also prove a considerable draw. It may attract more modest fortunes overseas, although Julia Ormond's sizeable presence and the narrative's universal notes aren't without wider appeal.
Scripted by writer/director Beresford with his now five-time producer Sue Milliken (Black Robe, Paradise Road), Ladies in Black refers to the women on the fifth floor of Goode's department store. With the Christmas rush in full swing, 16-year-old recent high-school graduate Lisa (Rice) steps into a summer job while she awaits her results, initially assisting Fay Baines (Taylor) and Patty Williams (Alison McGirr) in cocktail fashions, then helping Slovenian émigré Magda (Ormond) in high-end gowns.
Weaving together the central quartet's plights, the ensemble effort is grounded in struggles both personal and cultural; of women slowly rebelling against restrictive expectations and starting to realise that more progressive times lurk around the corner. The shy, bookish Lisa wants to attend university, a move her doting mother (Susie Porter) supports but her father (Jacobson) does not. She's taken under the somewhat-haughty Magda's wing, learning about the older woman's grueling immigration experience and enjoying her cultured, confident influence (and her haute couture fashion advice). Fay and Patty initially disapprove, dismissively dubbing Madga a 'continental', but have their own deeper woes. One can't find a respectful date, while the other can't make her husband (Luke Pegler) pay her any attention in the bedroom.
Making his first Australian feature since 2009's Mao's Last Dancer, Beresford gives the material the warm, light, heartfelt embrace that it demands — and while the mid-section drags, the end result remains buoyant. He's capably assisted by his cast, none more so than The Beguiled and The Nice Guys rising star Rice, who calmly yet vibrantly holds focus as the blossoming Lisa. Ormond captivates as the commanding Magda, turning the character's pain into strength and McGirr makes an impression as the more embittered Patty, while Taylor and Corr play well against each other.
On the technical side, every frame of Ladies in Black looks the polished period part, from the meticulous production design by Upgrade's Felicity Abbott to the sleek, tailored costuming by Winchester's Wendy Cork. And, unsurprisingly, seasoned Beresford cinematographer Peter James makes a spot-on contribution to this effervescent account of women seeking change on the cusp of the feminism-fuelled, culturally accepting Sixties.
Production company: Lumila Films
Distributor: Sony Pictures Releasing International
Producers: Allanah Zitserman, Sue Milliken
Screenplay: Sue Milliken, Bruce Beresford, based on the novel 'The Women in Black' by Madeleine St John
Production design: Felicity Abbott
Editing: Mark Warner
Cinematography: Peter James
Music: Christopher Gordon
Main cast: Julia Ormond, Angourie Rice, Rachael Taylor, Ryan Corr, Shane Jacobson, Susie Porter, Alison McGirr, Noni Hazlehurst, Vincent Perez