Dir: Esther May Campbell. UK, 2015, 90 minutes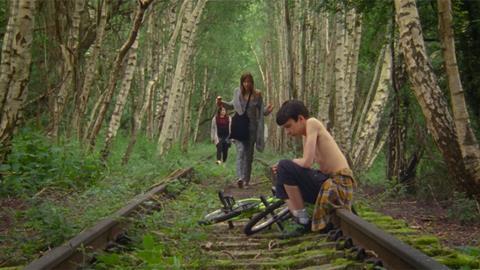 British arthouse drama is unlikely to win many new converts courtesy of this elusive debut feature from acclaimed shorts director Esther May Campbell. Artful compositions and arresting performances from child actors, in several cases making their screenacting debuts, are the pluses in a narratively slight road trip on foot that will likely challenge the indulgence of its audience. After disappointing UK box-office for more dramatically compelling British debuts including Catch Me Daddy, The Goob, Shell and For Those in Peril, returns look to be distinctly modest on this occasion. International film festivals feel a more natural home - Light Years premiered at Venice Critics Week before moving on to London.
Light Years boasts plenty of striking shots and performance moments – elements that might have thrived better in short-form filmmaking
Gradually, we come to learn that siblings Ramona (Sophie Burton), Ewan (James Stuckey) and youngest child Rose (Zamira Fuller) live with their father (Muhammet Uzuner), whose Mediterranean features do not appear to have been inherited by his children, and who works for a horticultural business. Their mother has been absent for quite a while, and she is missed especially by young Rose, who determines to set off and visit her.
In no particular hurry to set the story in motion, Light Years lingers over its largely rural setting, seemingly somewhere in the Bristol vicinity. Teen Ramona describes being ravished by an imaginary lover on the local golf course, and is then glimpsed kissing an actual potential boyfriend through the gaps in carriages of a train that rushes by. Neighbour Levi (a highly watchable Mickey Morris) cycles around, looking for Rose. In one of the film's more memorable scenes, he offers cardiopulmonary resuscitation to Rose's pet rat, which has seemingly died under Ewan's watch.
Characters are filmed lying down – variously on the carpet, on the ground, on the soft floor of a forest. Time has a woozy feel: the endless empty hours of childhood during the summer school holiday. Flocks of birds swirl in the sky. Plastic carrier bags and a foil thermal blanket twist in the breeze.
Eventually Rose makes it to the care facility where her mother (Beth Orton) is being treated for undisclosed conditions, physical and mental, and they make a break for the seaside. But the pair becomes separated, leading to the film's one instance of dramatic conflict.
The casting of musician and singer Orton, who returns to acting 14 years after her debut in US indie Southlander, adds an element of intrigue to the piece, as does the selection of Once Upon a Time in Anatolia's Uzuner. But both struggle to make much of an impression, given writer-director Campbell's studied instinct for withholding information. The younger cast members, seemingly picked for their contrasting screen presences and acting styles, register as nuanced individuals.
Campbell makes her transition to features six years after her short film September won a BAFTA. The promotion might seem long overdue, although the wait does not appear to have triggered an ambition to expand her storytelling scope to feature length. Light Years boasts plenty of striking shots and performance moments – elements that might have thrived better in short-form filmmaking.
Production company: Third Films
International sales: The Match Factory, info@matchfactory.de
Producers: Samm Haillay, Wendy Bevan-Mogg, Duane Hopkins, Andrew McVicar
Screenplay: Esther May Campbell
Cinematography: Zac Nicholson, Will Pugh
Editor: Chris Barwell
Production designer: Jane Morton
Music: Eric Chenaux
Main cast: Sophie Burton, Zamira Fuller, James Stuckey, Beth Orton, Muhammet Uzuner, Mickey Morris, Ewan Cooke, Graeme Hogg, Mike Wright, Fouad Cilmi