A transgender Filipina woman cares for a Russian-Jewish grandmother in Brooklyn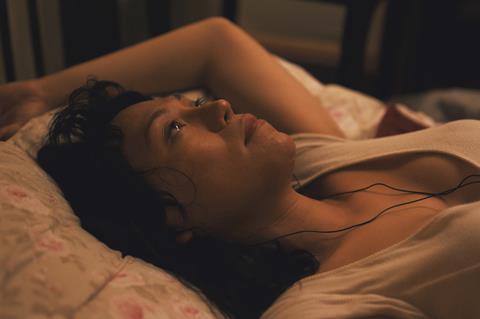 Dir/scr. Isabel Sandoval. US/Philippines. 2019. 94mins
A romance set against the backdrop of ICE raids and political hostility, Lingua Franca is a landmark film in that it is the first to be written and directed by a trans woman of colour. Not only does Isabel Sandoval write and direct, she also produced the picture, edited it and stars in it, as Olivia, an undocumented transgender Filipina woman works as a carer for a Russian-Jewish grandmother in Brooklyn's Brighton Beach. The shared experience between the filmmaker and the subject of the film allows for a character study of depth and intimacy. However, the story itself – a slightly soapy 'romance against the odds' narrative – presents few surprises.
The film's main mistake is to assume that the man is the more interesting character in the film
Although more muted and introspective than much cinema from the Philippines, Lingua Franca still swerves into melodramatic territory at times. The film which is named for the means of communication adopted by speakers of different native tongues occasionally struggles to find a common cinematic language between US indie and Filipino drama. Still, it's a picture which taps into an angle of the migrant experience – the precarious balance of a life made in a country whose citizens are encouraged to view immigrants as enemies – which is depressingly timely. It should be of interest to further festival audiences following on from its premiere in Venice, and may catch the eye of LGBTQ+ specialist distributors. It's the third feature from Sandoval and the first since her transition. She won prizes at Deauville Asian Film Festival and Hawaii International Film Festival for her previous work Apparition, released as Vincent Sandoval.
Our introduction to Olga (Lynn Cohen) is a poignant moment. The redoubtable matriarch whose influence in her family is waning as dementia takes hold stands, baffled, suddenly at sea in the kitchen which was her domain throughout her adult life. A note next to the phone instructs her to call for help; on the end of the line Olivia patiently talks her through the room until she is anchored back in her elusive memories. It's a conversation, we sense, that plays out several times a day.
But later, at the heart of a family gathering, Olga seems to swell and fill the room, as her grandchildren pay court and shower her with compliments. One grandchild is Alex (Eamon Farren), recently returned to the neighbourhood, who will be living with Olga and sharing the responsibility for her care with Olivia Alex is immediately fascinated by the poised woman who negotiates his grandmother's tricky care requirements so effortlessly. But he is initially unaware both of Olivia's identity as a transwoman, and her undocumented status. For a while at least, he remains oblivious of the former even after they enter into a sexual relationship. Their first encounter – a post operative trans woman being adored and pleasured by a macho straight man – is a quietly revolutionary moment.
Sandoval's presence in front of the camera is both a strength, in terms of the authenticity of the casting, and a weakness – the limitations in her acting ability are exposed in the more challenging scenes. Her performances is rather mannered and distracting at times. But the film's main mistake is to assume that the man is the more interesting character in the film. The story takes a major diversion and follows blue collar Brooklyn boy Alex, when it is Olivia's story which should remain centre stage throughout.
Production company: 7107 Entertainment
International Sales: Luxbox hedi@luxboxfilms.com
Producers: Jhett Tolentino, Carlo Velayo, Darlene Catly Malimas, Isabel Sandoval
Screenplay: Isabel Sandoval
Production Design: Clint Ramos
Editing: Isabel Sandoval
Cinematography: Isaac Banks
Music: Teresa Barrozo
Cast: Isabel Sandoval, Eamon Farren, Ivory Aquino, PJ Boudousque, Lev Gorn, Lynn Cohen