Marcela Said's second feature explores privelege and power in Chile's upper classes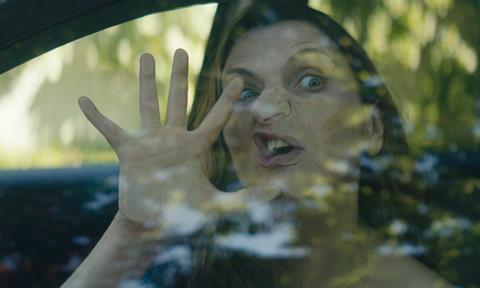 Dir/scr. Marcela Said. Chile/France. 2017. 94mins.
The past is an animal that can't be tamed in Los Perros, writer/director Marcela Said's sophomore feature and her second film to premiere at Cannes. After her 2013 debut The Summer of Flying Fish screened in the Director's Fortnight, the Chilean filmmaker's follow-up competes in Critics Week and offers an exploration of privilege and power predicated upon a compelling character study. Playing a wealthy, middle-aged woman forced to confront the price of her comfortable existence — and her country's conflicted recent history — Antonia Zegers delivers a probing performance that deserves further festival exposure.
This is a film that belongs to its leading lady.
Wily and spoilt, Zegers' Mariana is the kind of person who has it all — but doesn't appreciate it. In an early, personality-defining moment, she professes her boredom with her family's business affairs, but acts petulant when her father (Alejandro Sieveking) plans to sell their logging company. In another, she insists that she doesn't smoke when her fertility doctor advises she should stop, then sneaks a cigarette as soon as she can. Nothing is ever kept from her and her desires are never out of reach, or so she expects; which helps explain her blooming obsession with her riding coach, Juan (Alfredo Castro).
When Mariana discovers that Juan is awaiting sentencing for human rights abuses from time spent as a colonel under Pinochet, she's dogged in her pursuit of his tale, through entitlement rather than concern. She defends him to her Argentinian husband (Rafael Spregelburd), while cosying up to his lawyer (Elvis Fuentes) for more information. And yet, as wild in her actions and carefree in her emotions as she thinks she is, she's unprepared for the attachment she's forming.
From a roaming pet dog Mariana refuses to restrain to galloping horses she can't quite conquer, Said makes plain the parallels between the animal kingdom and Mariana's insular realm, favouring symbolism over subtlety on personal and political levels. Still, her approach is effective, both when her protagonist's life threatens to spiral out of her control and as she endeavours to reclaim her status quo.
This is a film that belongs to its leading lady. Ensuring that chaos envelops quietly, cracks deepen slowly and fortitude gradually triumphs over fragility is just one of Zegers' many feats in a film that doesn't ask audiences to warm to its complicated central character, but to understand her. She's ably assisted by the understated Castro, the most memorable of Los Perros' supporting players (and her co-star from Pablo Larrain's The Club, No, Post Mortem and Tony Manero.)
Handsome lensing by Georges Lechaptois (Planetarium) casts a grey sheen over the feature's boxed-in interiors and sprawling outdoor surroundings alike; heigtening both the narrative's sense of restriction and its ties with nature. Composer Grégoire Auger conjures up an ominous mood to suit a feature that's never less than disquieting, particularly in its commentary about Chile's upper classes.
Production companies: Cinema Defacto, Jirafa Films
International sales: Films Boutique, contact@filmsboutique.com
Producers: Sophie Erbs, Tom Dercourt, Augusto Matte, Santiago Gallelli, Benjamin Domenech, João Matos, Jonas Katzenstein, Maximilian Leo
Cinematographer: George Lechaptois
Editor: Jean de Certeau
Music: Grégoire Auger
Production design: Maria Eugenia Hederra, Pascual Mena
Cast: Antonia Zegers, Alfredo Castro, Rafael Spregelburd, Alejandro Sieveking, Elvis Fuentes