Jessica Woodworth's solo outing is a visually arresting, narratively dense drama inspired by Dino Buzzati's 1940 novel 'The Tartar Steppe'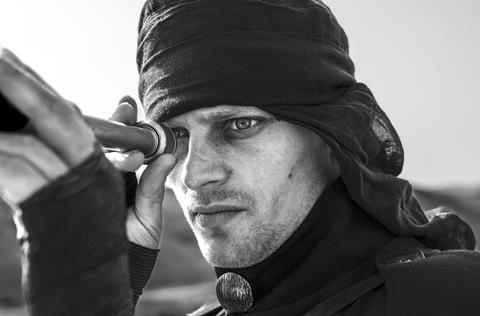 Dir/scr: Jessica Woodworth. Belgium/Bulgaria/Italy/Netherlands/Armenia. 2023. 94mins
After five writer-director collaborations with Peter Brosens, Jessica Woodworth makes an ambitious solo feature-debut with stylised black-and-white parable Luka. Inspired by Dino Buzzati's Kafkaesque 1940 novel 'The Tartar Steppe' — a landmark of magic-realism — it's an atmospheric, visually arresting if dramatically unengaging tale of self-perpetuating militarism undermined by a free-spirited new recruit. Elevated by spectacular settings and a magnetic supporting turn by iconic veteran Geraldine Chaplin, the multi-national co-production premieres in the Big Screen competition at Rotterdam and can expect a measure of further festival play in coming months.
The pulsating electronica-themed soundtrack by Italian composer Teho Teardo helps conjure an illusion of suspense and grandeur
After a diptych of relatively light-hearted comedies by the Brosens-Woodworth duo (The King of the Belgians in 2016 and 2019's The Barefoot Emperor), Luka — produced by Brosens — represents a return to the more sombre turf they essayed in Khadak (2006), Altiplano (2009) and their most widely-seen enterprise The Fifth Season (2012), all enigmatic affairs set in remote, unusual, self-contained environs. The results, especially in the second half — when fresh-faced, intense-eyed lead Jonas Smulders is decked out in desert garb — play rather like an arthouse-oriented, lo-fi cousin of Denis Villeneuve's Dune.
Italian director Valerio Zurlini travelled to the wilds of pre-revolutionary Iran to adapt 'The Tartar Steppe' as The Desert of the Tartars (1976) with a remarkable international cast (Trintignant, Von Sydow, Gassman, Noiret, Fernando Rey). Over three decades later, Emiliano Aiello and Ludovica Ando went to the opposite extreme in terms of setting and casting: Fortress, placed non-pros within the confines of Rome's Civitavecchi prison. Woodworth now opts for an ensemble comprising unknowns, semi-knowns and one genuine star (Chaplin), presented in a dustily windblown Sicily.
The chief backdrops are the Blufi dam (a vast work of futuristic/brutalist concrete whose construction was halted in the 1990s) and a 15th century quarry at Melilli, boasting some dizzyingly lofty interiors. The epic scale of these locations necessarily dwarfs the human figures who populate them. And while Woodworth is clearly aiming to craft a timeless mythic tale, her protagonists never threaten to achieve the larger-than-life status required.
Main focus throughout is the eponymous, twentysomething Luka (Smulders), who treks across inhospitable terrain to join the defenders of the sprawling Fort Kairos. For decades (perhaps centuries?) the forces here have maintained a constantly watchful eye against the threat of unspecified danger from the north. "No one's been up north for generations," advises communications expert Konstantin (Samvel Tadevossian), whom Luka quickly befriends. The prodigiously skilled sharpshooter's other pal is lively private Geronimo (Django Schrevens), whose father, Commander Gor (Valentin Ganev) is part of the ageing triumvirate in charge of the base — alongside with The General (Chaplin) and The Duke (Hal Yamanouchi.) Discipline is chiefly enforced by wild-eyed Sergeant Major Raf (Jan Bijvoet): "Regulations regulate! Without them we cease to exist!"
Raf's maniacal adherence to the letter of Kairos's laws results in a tragic development just before the one-hour mark — providing a welcome touch of drama in a picture which is (in accordance with the Buzzati novel) primarily an evocation of stultifying, pointlessly repetitive stasis. But even this shocking turn of events has no real emotional impact, as the characters remain almost exclusively two-dimensional ciphers throughout. Armenian brooder Tadevossian shows considerable promise in his underwritten role, but the only real exception is Chaplin — who by the force of her presence, visage, glare and diction endows proceedings with the air of Greek or Shakespearean tragedy.
When Chaplin is off screen, the energy-level drops. There are considerable compensations along the way, however: cinematographer Valerie Surdej (also responsible for current festival-circuit favourite The Blue Caftan) crafts some striking images via 35mm cameras, and the pulsating electronica-themed soundtrack by Italian composer Teho Teardo (Paolo Sorrentino's Il Divo) helps conjure an illusion of suspense and grandeur.
It's when scenes rely on dialogue for impact that Luka stumbles: the performers hail from several different countries and deliver their portentous lines in accented English throughout, with very variable results. The numerous military-ensemble sequences meanwhile tend to exude the self-indulgent air of actors' physical exercises; and as well as being decidedly light on humour the picture is oddly chaste in terms of sexuality.
Echoes of Ciro Guerra's Waiting For The Barbarians (2018) are explained by that film's source novel (by J M Coetzee) being squarely influenced by the Buzzati book — itself inspired by Constantine Cavafy's 1904 Greek poem from which Coetzee took his title.
Production companies: Bo Films, Krater Films, Beluga Tree, Palosanto Films, Volya Films, Art Fest, Dokino
International sales: Films Boutique, contact@filmsboutique.com
Producer: Peter Brosens
Co-producers: Maarten D'Hollander, Tim Martens, Diana Elbaum, Flaminio Zadra, Pilar Saavedra Perrotta, Denis Vaslin, Fleur Knopperts, Stefan Kitanov, Mira Staleva, Anzhela Frangyan
Screenplay: Jessica Woodworth, based on "The Tartar Steppe" by Dino Buzzati
Cinematography: Virginie Surdej
Production design: Sabina Christova
Editing: David Verdurme
Music: Teho Teardo
Main cast: Jonas Smulders, Jan Bijvoet, Geraldine Chaplin, Django Schrevens, Samvel Tadevossian, Hal Yamanouchi, Valentin Ganev, Sam Louwyck