The Wizard Of Oz offers a new prism through which to make meaning from David Lynch's films in this layered video essay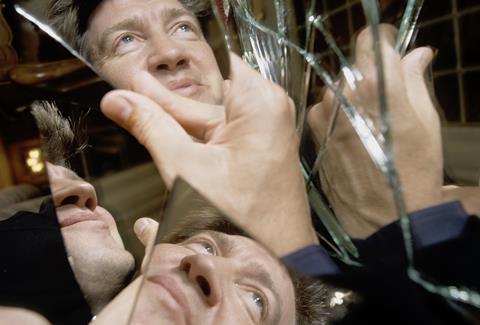 Dir/scr: Alexandre O. Philippe. US. 2022. 109 mins
David Lynch famously refuses to discuss the 'meaning' of his films. However, as Lynch/Oz keenly points out, he once said in an audience Q&A that "there is not a day that goes by that I do not think about The Wizard of Oz." The most overt example of this is his 1990's fever dream comedy crime drama Wild At Heart, with its thematic and character references to Victor Fleming's 1939 Technicolor classic, The Wizard Of Oz. Alexandre O. Philippe's latest feature length video essay draws further parallels between what has become known as a 'Lynchian nightmare' and the darker themes and characters that live in the merry old land of Oz. With its impressive array of hundreds of film clips, frenetic editing and whip-smart narrators, Lynch/Oz offers an exciting prism through which to view Lynch's oeuvre.
Each chapter could stand easily alone as a complete video essay in its own right
The promise of Lynch (even though clips of him speaking are only peppered throughout the film), along with Philippe's reputation from previous cult cinema-focused video essays, Doc Of The Dead (2014), 78/52: Hitchcock's Shower Scene (2017) and Memory: The Origins of Alien (2019), Lynch/Oz is certain to see this six-chapter documentary enjoy extensive further festival play and, through Dogwoof, into niche theatres.
Each of the chapters, presented by a different commentator, considers an element of the interplay between Lynch and Oz, giving the film a compilation-like quality instead of a narrative arc. This, along with its supercut style, lends Lynch/Oz a '90s mixed tape cultural cachet (fitting for a director who favours nonlinear filmmaking). Owing to the charismatic presenters Philippe has gathered, which includes film critic Amy Nicholson and filmmakers John Waters, Karyn Kusama, David Lowery, Rodney Ascher and Moorhead & Benson, each chapter could stand easily alone as a complete video essay in its own right.
Amy Nicholson's opener, 'Wind', which is as dynamic as its title, sets the pace and tone for the following chapters: explicatory clips appear and disappear as fast as the cow, witch and tumbleweed that Dorothy watches from her bedroom window, whisked away from Kansas and thrown – quite violently – into a brand new world. Nicholson's chapter is also the most academic, her argument clearly structured and well researched, stacking up for Philippe the backbone of the documentary, drawing connections between what she calls the "quintessentially American fairytale" and Lynch's "source of mystery". Mystery, she suggests, is often achieved for Lynch through the aural addition of wind, especially eerie when set to interior spaces, as witnessed extensively in Eraserhead and Twin Peaks.
For fans of John Waters, whose Pink Flamingos (1972) was one of the original six 'midnight movie' screenings at the Elgin theatre in New York, along with Lynch's Eraserhead, there are some truly special treats. In his chapter 'Kindred' there is a short glimpse of Dorothy The Kansas City Pothead (1968), one of Waters' more obscure films.
Justin Benson and Aaron Moorhead, known as Moorhead & Benson (The Endless, 2017), peel back the artificial layers of Hollywood as if it were an onion. David Lowery's final chapter, 'Dig' sheds light on Lowery's own filmmaking, and includes self-reflection on A Ghost Story (2017). Even Rodney Ascher, whose documentary Room 237 (2012) was seen as contentious for its sometimes tenuous readings of Kubrick's The Shining (1980), mounts a reasoned argument here about layered realities, supported by several clips featuring superimpositions and slow dissolves.
A few diversions, presumably intended to afford the film with a better diversity of films and filmmakers, feel oddly out of place, specifically the montage in Lowery's 'Dig' when clips from Abbas Kiarostami, Spike Lee, Jane Campion and Wong Kar-wai's films appear on screen, but are set to Aaron Lawrence's sentimental guitar. There is also a tendency among the narrators – presumably driven by Philippe – to assert that perhaps everything is 'an Oz narrative', ignoring other contexts and influences – both written (Oz was a series of books first) and cinematic (there is only one clip from a silent film) – that may have produced some of the now distinct tropes attributed to the obfuscating Wizard who would rather remain behind his curtain than explain what any of it means.
Production company: Exhibit A Pictures
Producer: Kerry Deignan Roy
International sales: Dogwoof, ana@dogwoof.com
Editor: David Lawrence
Cinematography: Robert Muratore
Music: Aaron Lawrence
Narrated by: John Waters, Rodney Ascher, Karyn Kusama, David Lowery, Amy Nicholson, Moorhead & Benson