Dir: Gregory Jacobs. US. 2015. 115mins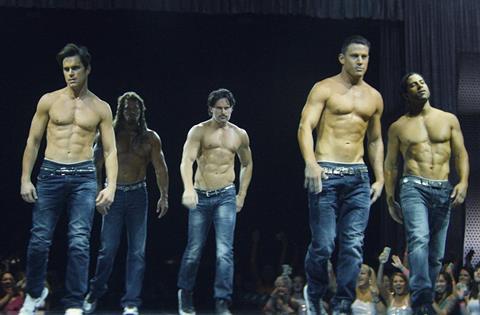 Less lively and sneakily emotional than the original, Magic Mike XXL still packs enough sexy fun to merit a second go-round with the Kings of Tampa. Though saddled with plenty of obstacles — the absence of Matthew McConaughey in front the camera, the absence of Steven Soderbergh behind it, and the familiarity of the film's road-trip narrative — this sequel to the unlikely 2012 male-stripper sensation has an agreeably ramshackle spirit and another winning turn from star and producer Channing Tatum. As for the dancing, it's as deliciously spirited as ever.
If Magic Mike could be criticised somewhat for Soderbergh's occasionally jokey attitude toward the dance sequences, XXL works to ensure that each impressive set piece is muscular and propulsive.
Opening July 1 in the States before making its way across most of the rest of the globe by the end of the month, Magic Mike XXL will test whether box-office lightning can strike twice. The original, reportedly budgeted at $7m, grossed more than $167m worldwide, becoming that summer's sleeper surprise. With an ad campaign that thrusts the cast's beefcake bods front and centre, Warner Bros. is counting on the fact that sex will continue to sell, and no doubt the movie's guilty-pleasure vibe should be a major attraction for plenty of viewers. As counterprogramming to Terminator Genisys and the forthcoming Minions, XXL could fit the bill for audiences already tired of the season's shoot-'em-ups and family fare.
XXL takes place three years after the first film, with retired stripper Mike (Tatum) now focusing on his construction business. But the old gang, known as the Kings of Tampa, convince him to go on one last road trip to a high-profile stripper conference in Myrtle Beach, which will be the last time they all perform together before going their separate ways. Although he thought he'd put those years behind him, Mike can't resist the offer as they plan a whole new routine as their big farewell to the stripper life.
Early on, XXL reveals that McConaughey's Dallas has gone overseas with The Kid (Alex Pettyfer, from the first film) to pursue new entertainment opportunities. In one fell swoop, XXL loses two of the original movie's main characters, putting more of the focus on Tatum's supporting cast. This proves to be a mixed blessing: While it's enjoyable watching strippers like Big Dick Richie (Joe Manganiello) and Ken (Matt Bomer) get a little more screen time and develop as characters, the sad truth is they're not particularly rich creations. Indeed, with the exception of Mike, the Kings of Tampa remain one-note, a likeable enough gang of openhearted, confident hunks who are better off in the background when they're not taking to the stage and ripping their clothes off.
XXL's other major absence is less obvious. Soderbergh directed the original film, but here he steps back, handing the reins over to Gregory Jacobs, his long-time first assistant director. XXL isn't lacking for Soderbergh's cold, calm intelligence, though — especially when you realize that he's credited as the film's editor and cinematographer (using his frequent pseudonyms, Mary Ann Bernard and Peter Andrews, respectively). Not surprisingly, XXL is a striking facsimile of a Soderbergh film, Jacobs giving the material the same sly, unromantic treatment that his boss lent the first instalment.
Written, like Magic Mike, by Reid Carolin, XXL shifts the story away from the genres that dominated the 2012 film. Instead of a clear-eyed fable about an immature manchild who must learn to grow up — spiced with a cautionary tale (in the form of The Kid) about the dangers of being seduced by a hedonistic lifestyle — XXL is a road movie mixed with the let's-put-on-one-last-big-show dance film. XXL lacks the novel milieu that made Magic Mike such a treat, Soderbergh finding fresh terrain to speak to old issues of adulthood, temptation and the sting of economic hard times. Those elements are still somewhat at play in XXL, but they're not as sharply executed, the modest rewards more in the margins as Mike tries to reconnect with his old pals while encountering new friends and former flames along the way.
To compensate for the missing cast members and to add fresh blood, XXL introduces several new characters, none of them particularly stellar but all resonant enough to add to this sequel's tapestry of people who fall outside the margins of traditional life. Amber Heard doesn't get enough screen time as a potential love interest for Mike, but her tomboyish flirtation delights. Likewise, Elizabeth Banks has little more than a walk-on near XXL's end as a conference organiser, while Andie MacDowell plays her drunken, lonely divorcée to the hilt.
Easily the best of these new faces is Jada Pinkett Smith as Rome, the strong-willed proprietor of an exclusive "exotic entertainment palace" who used to employ Mike before he jumped ship to join Dallas. Rome's greatest liability as a character is that she's meant to be XXL's Dallas — the larger-than-life master of ceremonies who gets the crowd ready for the Kings of Tampa — and despite the sass Pinkett Smith brings to the role, there's simply no comparison to the cocky magnificence of McConaughey's earlier performance.
If XXL can't find the magic of the first Mike, Jacobs and his team can still rely on Tatum's winning performance as the endearing title character. The actor has played slow-witted characters in both drama (Foxcatcher) and comedy (the Jump Street films), but Mike allows him to show both sides at once. XXL suffers because Mike doesn't have as interesting a personal journey to go on this time around, but Tatum (a former stripper) understands the character's mixture of arrogance and insecurity, how Mike's graceful, compelling stripping/dancing numbers belie how lost he is in other aspects of life. Mike may be an idiot at times, but he doesn't have a mean bone in his body, which makes his sweetness and uncertainty all the more touching.
For most potential viewers, though, none of this matters as much as one crucial question: how are the stripping scenes? Quite impressive. If Magic Mike could be criticised somewhat for Soderbergh's occasionally jokey attitude toward the dance sequences — an unfair complaint since the filmmaker was merely de-emphasizing the exoticness of the profession — XXL works to ensure that each set piece is muscular and propulsive. Magic Mike choreographer Alison Faulk gives the actors balletic, believable moves that are sexy and sleek in equal measure, and like the first film, XXL is that rare studio movie where the female gaze is paramount. Again and again, cheering women get to enjoy the talents of the Kings of Tampa, and XXL is refreshingly open in its pursuit of libidinous pleasure, its set pieces embracing women of all ages and races, not to mention gay men. With XXL, we've seen this show before, but this series' distinctive, inclusive pleasures remain, even if they've faded some.
Production company: RatPac-Dune Entertainment
Worldwide distribution: Warner Bros. Pictures, www.warnerbros.com
Producers: Nick Wechsler, Gregory Jacobs, Channing Tatum, Reid Carolin
Executive producer: Steven Soderbergh
Screenplay: Reid Carolin
Cinematography: Peter Andrews
Production design: Howard Cummings
Editor: Mary Ann Bernard
Website: www.magicmikemovie.com
Main Cast: Channing Tatum, Matt Bomer, Joe Manganiello, Kevin Nash, Adam Rodriguez, Gabriel Iglesias, Amber Heard, Donald Glover, Andie MacDowell, Elizabeth Banks, Jada Pinkett Smith