Will it be money, money, money the second time around?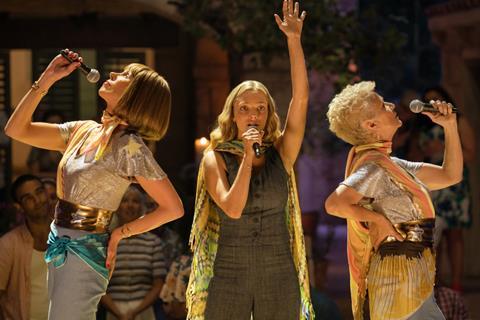 Dir: Ol Parker. Country: UK. 114 mins.
Its worldwide gross of over $600 million notwithstanding, the 2008 jukebox musical Mamma Mia! was a decidedly hit-and-miss affair, with thin characterisation, manic direction and some singing so bad that it pushed any sane person's tolerance to the limit. Its saving graces were a gold-plated Abba soundtrack and a vibrant lead performance by Meryl Streep. So surely a sequel based on the same template, but with lesser-known songs and a watered-down role for the star, would be playing with fire? Would this be Mamma Mia's Waterloo?
This has all the makings of another summer hit
Far from it. Ten years on, with new writer-director Ol Parker at the helm and Richard Curtis's unmistakeable comic presence in its DNA (despite no more than a 'story' credit), this offers both feelgood business-as-usual and something altogether different – better scripted, better performed and more ambitious. Throw in a glorious abundance of actresses, including an inspired inclusion of Cher into the Abba mix that feels like kitsch heaven, and this has all the makings of another summer hit.
The first film introduced Donna Sheridan (Streep), her daughter Sophie (Amanda Seyfried) and the unanswered question of which of Donna's three former suitors is the girl's father: Sam (Pierce Brosnan), Harry (Colin Firth) or Bill (Stellan Skarsgård). Still set on the fictional Greek island of Kalokairi, the new script adds context and depth to those relationships.
In the present, Sophie has overseen the transformation of her mother's taverna into a luxury hotel, while fretting about her absent boyfriend Sky (Dominic Cooper). Back in 1979, the vivacious Donna (Lily James) graduates from Oxford with a desire to see the world. On her travels she meets shy banker Harry, Lothario sailor Bill and conflicted architect Sam. Perhaps most importantly, she falls in love with Kalokairi, which she will never leave (in reality the Croatian island Vis, radiantly lensed by Wes Anderson regular Robert Yeoman).
With editor Peter Lambert, Parker segues seamlessly between past and present, creating a number of correspondences between the young Donna and Sophie, sometimes thematic (notably motherhood) and at otherf involving the presence of the same three men in each of their young lives – as lovers to Donna and father figures to Sophie. At the same time, the initial friendship between Donna and her singing partners Tanya and Rosie is fleshed out, providing much of the film's comic energy.
It must be said, even Benny Andersson and Ulvaeus's lesser-known songs tend to be outstanding. And this time they, and some A-side reprises, benefit from being sung uniformly well. James not only does a nice job of presaging Streep's Donna – particularly her loose-limbed body language – but she has a beautiful voice, as does Seyfried, the pair anchoring both the film's storyline and its soundtrack.
Highlights include a madcap Parisian rendering of Waterloo by James and the amusing Hugh Skinner as young Harry; James soulfully solo on Andante, Andante and leading a feisty Mamma Mia; a gloriously over the top Dancing Queen, as Firth and Skarsgård take a flotilla into the island, and Streep and Seyfried breaking hearts with My Love, My Life. It is even nice to see Brosnan, whose vocal efforts were much derided before, taking another, better crack at SOS.
And then there's Cher, the Goddess of Pop, who like Abba has been known to sport some spandex in her wardrobe. She plays Sophie's absentee grandmother, a Las Vegas entertainer, both character and actress helicoptering into the action to steal the show with an absolutely delicious duet of Fernando with Andy Garcia's hotel manager.
Parker is best known for his script of Best Exotic Marigold Hotel, and this is only his third outing as director in 13 years. At times it shows, with two or three clumsy musical sequences. Where he excels is in mining the warmth in the songs and a pathos in the characters, all too often lost in the commotion of the earlier film.
The template may remain essentially cheesy and the men still appear never to have experienced a dance floor. Yet it would be churlish to argue against a film of such smile-out-loud optimism. While borrowing 'here we go again' from the song Mamma Mia might seem misguided – toying with thoughts of weary resignation – it's worth remembering the undeniable line that follows: "My, my, how can I resist you?"
Production companies: Playtone/Little Star
Worldwide distribution: Universal Pictures International
Producers: Judy Craymer, Gary Goetzman
Screenplay: Ol Parker
Production design: Alan MacDonald, John Frankish
Editing: Peter Lambert
Cinematography: Robert Yeoman
Music and lyrics: Benny Andersson, Björn Ulvaeus
Score: Anne Dudley
Main cast: Meryl Streep, Pierce Brosnan, Colin Firth, Stellan Skarsgård, Amanda Seyfried, Lily James, Dominic Cooper, Julie Walters, Christine Baranski, Cher, Andy Garcia