Dirs. Claude Miller, Helena Cotinier, Pierre-Nicolas Durand. France/ USA, 2009. 95 mins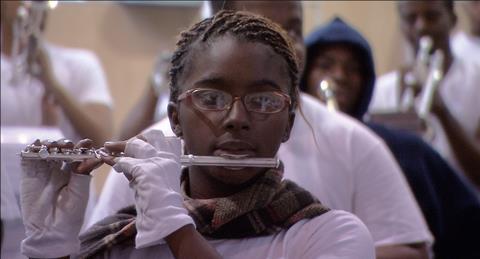 Whatever the shortcomings of this documentary set in two Virginia universities during the run-up to the recent American elections, it's still a colourful addition to the history of the country's seismic political shift.
Focusing on the latter stages of the Obama campaign, coming to a climax on his November 4 victory, Marching Band, or rather, the infectious enthusiasm displayed by all its interviewees, already feels slightly dated - but Claude Miller's decision to tackle the subject through the perspective of the university brass bands turns out to be judicious and relevant. Miller's name is always enough to lure film buffs, and the film's high technical standards, coupled with its remarkably eloquent students, should see Marching Band drum up a respectable arthouse run before performing decently on TV.
Adding two younger directing partners – Cotinier and Durand – who are both closer in age to the students interviewed, Miller follows the two bands as they prepare and rehearse their routines. One is from the predominantly black Virginia State University, and the other from the more mixed University of Virginia in Charlottesville. Through interviews with the musicians, their instructors and their families, the general eagerness for drastic change becomes apparent - although they may be integrated and free, the past is still alive, and the days of segregation are not forgotten.
Marching Band stresses time and again that the bands aren't just important because of their musical achievements, but because they keep the kids out of mischief. Their touches of ritualistic pomp and military discipline alongside the elaborate routines based on music and movement make them seem part of the all-American spirit.
The excitement of young African-Americans voting for the first time in their lives is only matched by the thrill of realising that their votes really matter and can make a change, or, as their slogan puts it, "yes, we can".
Indulging in a touch too much music – despite the title, this is not a musical – Marching Band could still do with some judicious trimming, even at 95 minutes.
To sign up for Screen's weekly Reviews Newsletter with new releases, international openings and full festival reviews delivered free to your mailbox every Friday, please click HERE

Production companies
Les Films de la Boissiere
F comme Film
Camera Lucida
Can & Co Productions
Cinema Parallel
Producers
Annie Miller
Claude Miller
Jean-Louis Livi
Francois Bertrand
Nathan Miller
JK and Rob Tregen Za
International Sales
Les Films du Losange
+ 33 1 44 43 87 10
Cinematography
Luis Arteaga Pacheco
Editors
Christianne Lack
Morgane Spacagna
Sound
Cedric Lionnet
Francois Fayard
Emmanuel Angrand