Actor/director Guillaume Gallienne returns with a challenging melodrama starring Adeline d'Hermy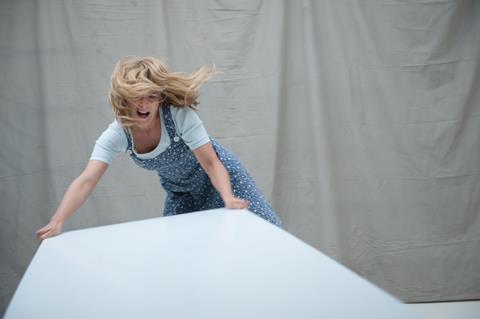 Dir. Guillaume Galienne. France. 2017. 107 mins.
Actor Guillaume Gallienne released his 2013 crowd-pleaser Me, Myself And Mum to critical and commercial success uncommon for most directorial debuts. The autobiographical stage adaption dominated France's box-office and swept up five Césars, including the top prize. Perhaps secure in the knowledge that no sophomore entry can top his first home run, Gallienne has returned with a challenging and often glacially detached melodrama about the interior lives of actors.
In some ways the films plays like a less caustic version of Being There, following a lead so passively withdrawn that she forces others to project onto her whatever they may
Even though it is handsomely mounted, the cerebrally over-determined Maryline plays out like a chilly art-house exercise in a commercial cinema skin. Marking a clear step forward with regards to Gallienne's comfort behind the camera, Maryline remains a more or less fascinating experiment that makes few pretenses towards crowd-pleasing and stands little chance of outsized box office glory. Mixed reviews are a near guarantee, but those who love will loudly sing its praises.
Adeline d'Hermy anchors the tale, set at some interval between the 1950s and 1970s but never explicitly stated when. She plays the titular Maryline, a small-town girl who heads to big city to make it as an actress. Not a plot heavy affair, the bildungsroman narrative follows the young woman across a variety of film gigs and 'real world' jobs until she ultimately finds her voice in the theatre.
Marking her first leading role, d'Hermy remains front and centre throughout each episode but never actually drives them. Doe-eyed and meek in nature, Maryline spends much of the film literally barreled over by whoever takes interest in her while remaining, at some points, inaudible. Performers like Lars Eidiger and Vanessa Paradis sweep in and wholly take over for different episodes – he as a sadistic director, she as a supportive older star – that should otherwise mark important moments in the character's blossoming; she is ever onscreen but otherwise absent.
In some ways the films plays like a less caustic version of Being There, following a lead so passively withdrawn that she forces others to project onto her whatever they may. With sunny blonde hair and a first name intentionally meant to evoke a certain mid-century American megastar, everything about Maryline is a reflection. Roles seem to land in her lap without the need to audition. Nearly all the dialogue she utters in voice over – that the film wants to us to take as her inner monologue – later turns out to be line reads from a script. In fact, we don't even see her act until more than halfway through film, and so it's often unclear whether she actually does possess such undeniable talent or whether that is just another projection as well.
Ultimately weakening his actor-as-cipher-thesis, Gallienne nevertheless offers abundant close-ups of his forceful lead actress. D'Hermy is often asked to play passive, but she imbues her character with torrents of emotions that rage in silence behind her eyes. Though the elliptical, time-lapse narrative never offers us much entry into Maryline's interior life, the actress makes it clear that she very much has one.
Cinematographer Christophe Beaucarne's burnished frames and costume designer Germaine d'Hoffelize's single-tone ensembles offer an appealingly polished look, but the film is most notable for its near lack of music. Maryline luxuriates in silences much like a printed script, whereas in between the written dialogue and stage directions there is nothing but white space.
Production Companies: LGM Cinema, Gaumont, Don't be Shy Productions
International sales: Gaumont, alexis.cassanet@gaumont.com
Producers Cyril Colbeau-Justin, Jean-Baptiste Dupont, Sidonie Dumas, Guillaume Gallienne
Screenplay: Guillaume Gallienne
Cinematography: Christophe Beaucarne
Editor: Valérie Deseine
Production designer: Sylvie Olivé
Main cast: Adeline d'Hermy, Vanessa Paradis, Eric Ruff, Xavier Beauvois, Lars Edinger, Pascale Arbillot, Alice Pol