Jonah Hill is writer/director of this impressive rites-of-passage first feature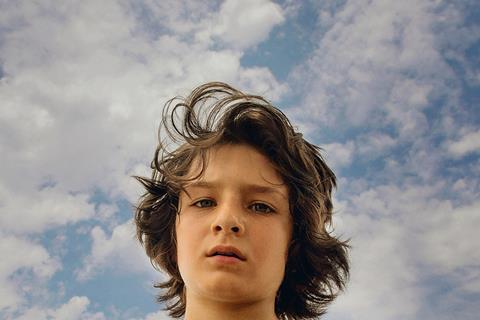 Dir/scr. Jonah Hill. US. 2018. 84 mins.
Actor Jonah Hill has delivered an intimate, very-nicely-crafted rites-of-passage story set in the Los Angeles skateboarding community back in the day. Shot on 16mm and set during a summer when a young boy's newfound passion for boarding leads him into the attractive orbit of a trouble-making group of older friends, it's an eminently-watchable little slice of cinema which could find a similarly small theatrical niche. Empathetic young lead Sunny Suljic, who apparently shot this when he was a young-looking 11, may be too physically slight for some of the script's requirements of a 13 year-old teenager, however, his body not sufficiently out of boyhood to carry repeated falls, or a sexual awakening sequence, without some viewer discomfort.
Model and sportsman Na-kel Smith is a standout in his debut film
That's merely a small, if troubling, element of a film which otherwise gets it right: the milieu; the blossoming friendships; the reverence a young boy has for his older pals. With an actor's sensibility, Hill has surrounded Suljic (The Killing Of A Sacred Deer) with a cast of vibrant, shining unknowns in the gang, while his erratic mother is played by Katherine Waterston, and his violent older brother by the brilliant Lucas Hedges. Model and sportsman Na-kel Smith is a standout in his debut film and mid90s cloaks him and the story in an alluring technical package which has the air of complete authenticity.
Whether Hill's debut as a writer-director is drawn entirely, or partly, from personal experience seems a moot point: there's a sufficient clear-eyed skill to the project to elevate it out of the memoir arena and mark the actor out as a directing talent to watch. Drenched as it is in period detail – a Teenage Mutant Ninja Turtles t-shirt is an early declaration, followed by a Discman – mid90s is an easy-to-negotiate film which could skate its way around youth-oriented festivals on an international level as well as domestic play.
Suljic plays Stevie, the butt of his simmering teenage brother Ian's (Hedges) rage and the apple of his single-mother's (Waterston) eye. As she explains, during an awkward birthday dinner for the thuggish Ian, "when I was 18, I was breastfeeding you". And there are strong hints that somewhere between Ian and Stevie, things went awry. Stevie raids Ian's bedroom and gets thumped for his troubles, but he'd also like to impress his older brother. That not being remotely possible, Stevie barters for his skateboard and ends up in a boardwalk skate shop during a long hot summer break, where he tries to gain access to the gang of hangers-on there through their youngest, and most insecure member Ruben.
Pretty soon, though, he's adopted by Fourth Grade, played by Ryder McLaughlin (so called because of his alleged mental abilities), Fuckshit (Olan Prenatt), nicknamed because of his typical reaction to….anything. And, most importantly, Ray (Na-kel Smith), the only one in the group with any ambition, to become a professional boarder. Clearly Stevie's out of his depth, and his social class here, and pretty soon he's stealing from his mother to upgrade his board, smoking pot, swigging vodka, and getting a sexual orientation.
This is classic rites-of-passage fare, but mid90s is executed with some real flair, most noticeable on the soundtrack (Trent Reznor and Atticus Ross take credit for the score). Hill's debut is a well-nourished affair financially, for a project so small and star-less, but he makes good choices throughout. Using Philip Glass is an unexpected and discordant note which underlines what's so special and different about this impressive little film.
Production companies: A24, Waypoint Entertainment
International sales: A24, ali@a24films.com
Producers: Scott Rudin, Eli Bush, Ken Kao, Jonah Hill, Lila Yacoub
Production design: Jahmin Assa
Cinematography: Christopher Blauvelt
Editing: Nick Houy
Music: Trent Reznor and Atticus Ross
Main cast: Sunny Suljic, Katherine Waterson, Lucas Hedges, Na-kel Smith, Olan Prenatt, Gio Galicia, Ryder McLaughlin, Alexa Demie