A stark and impressive debut from Switzerland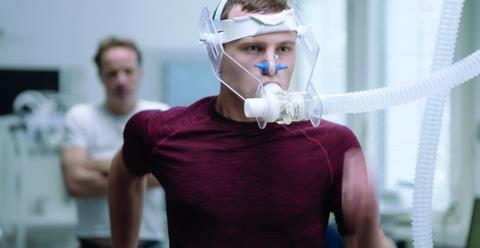 Dir/scr: Hannes Baumgartner. Switzerland. 2018. 91 mins.
Young Swiss director Hannes Baumgartner makes an insidious debut with the quietly provocative drama Midnight Runner, a competitor in San Sebastian's New Directors strand and now showing at home in Zurich. Pale and leached, score-less but sound-full, it's less of a story than a creeping track of a twisting malaise which finds an ugly release. Scenes in which the lead character scans the night for an escape from his pounding torment are indelible, particularly for women who have ever walked alone with the sense they're being watched.
Baumgartner isn't so interested in what maketh the man in as much as how the man becomes the monster inside him
Prizes or no, Midnight Runner – which was picked up at San Sebastian by Be For Films and is set for Swiss release through FilmCoopi in October – should look forward to continued and extensive festival interest accompanied by a warm reception at home. Its progressive use of sound as an accelerant to the main character's mental decline will distinguish Baumgartner's tightly focused and skilful film-making. Small-scale commercial release may even be possible in northern European territories for this based-on-a-real-story film which aggressively insists on keeping the viewer out of sync with the character until he, and we, finally experience cold release.
The audience is told, via subtitles, that Midnight Runner is based on a true story; that Jonas Widner (Max Hubacher) and his brother Philipp (Saladine Dellers) were abandoned as children and eventually fostered. They're seen running together in the wilderness in repeated flashbacks/dreams which very much strike an off-note; is there hidden aggression between them? Love? Sexual attraction? We cut to today, where Jonas has come second in the nation's military fitness marathon, a huge let-down after the previous year's win. In the interim, Philipp has hanged himself.
On one level, Jonas is managing. He's working in a restaurant's kitchen, living with his girlfriend Simone (Annina Eeling), and his running coach believes he has the ability to go all the way to the Olympics. But nothing is really right. He won't talk to his foster mother or seek help from a mental health professional. He comes on to a colleague in a way that isn't healthy, writing her letters. He can't sleep at night, dreaming about Philipp, and goes running in the dark against the advice of his trainer. You can see – and hear - it all flooding up, surging, surging, until you wonder when and how he's going to lance the boil. Sleeping pills provide a brief respite. Because Jonas isn't really a good guy trying to make it all work; he's a bad man-in-waiting, and Baumgartner's acceleration makes his decline credible.
Hubacher really has to carry this film, although Eeling is very effective when she gets the chance. And the outcome is never really clear: at any point it could snake back and Jonas could vindicate himself. The actor controls those intense stares to deliver a sense of boiling frustration – with nothing and everything, and everyone he encounters. Baumgartner isn't so interested in what maketh the man in as much as how the man becomes the monster inside him. What looks like an acute portrayal of the non-specific malaise that haunts young males today turns quite believably into a violent realisation. And every step of the way, pounding down tracks and up mountains, the sound urges Jonas to go as far as he possibly can.
Never an easy watch, Midnight Runner looks very much like a male film; but it's one which also encompasses every woman's worst fears.
Production company: Contrast Film
International sales: Be For Films
Producers: Stefan Eichenberger, Ivan Medeo
Screenplay: Stefan Staub, Hannes Baumgartner
Editing: Christophe Schertenleib
Cinematography: Gaetan Varone
Production design: Demian Wohler
Main cast: Max Hubacher, Annina Eeling, Sylvie Rohrer, Christophe Sermet, Saladine Dellers, Luna Wedler